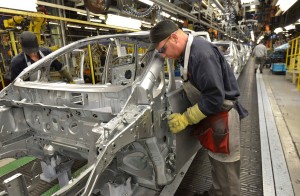 NISSAN'S vital role in the UK's manufacturing sector was highlighted on the motoring show Top Gear last night – with the programme reporting that the company's record-breaking Sunderland plant produces more vehicles per year than the whole of Italy.
Nissan was mentioned in a stirring and patriotic final 15 minutes of the show, which concluded with a stunning array of British-built vehicles lining up in The Mall, festooned with Union Jacks to emphasise the Made in Britain theme.
Top Gear's trio of presenters – James May, Jeremy Clarkson and Richard Hammond – began the segment by drawing attention to some of their own hare-brained creations before exploring the more serious side of the UK's car manufacturing industry in detail.
Cutting to footage of disused and abandoned building, Clarkson said: 'This is most people's idea of a British car factory, a ruin that closed down after some long-forgotten strike in the 1970s.
Extraordinary contribution
'But it turns out that actually there's rather more going on than you might think. Today, a new car rolls off a production line somewhere in Britain every 20 seconds.'
Clarkson went on to mention Honda's factory in Swindon, Toyota's plant in Derbyshire and, of course, Nissan's Sunderland operation.
He confirmed: 'Last year this one factory made more cars than the whole of the Italian motor industry put together.'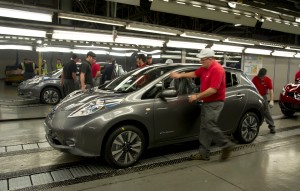 The series finale went on to explore other areas of the automotive manufacturing sector in Britain including the Rolls Royce plant in Sussex, and the world of motor-racing.
Clarkson informed viewers that of the world's 11 Formula One teams, eight are based in Britain. 'Britain's contribution to motorsport is extraordinary,' he added.
He then explained the plan hatched by the Top Gear team that resulted in the impressive line-up of hardware in The Mall. He explained: 'We called all the companies that make motorised vehicles and said to them: "Could you bring whatever it is you make to a gathering in London?" Everybody responded magnificently.'
Viewers were then treated to the sight of all the vehicles arriving on the streets of the capital and heading for The Mall.
Clarkson intoned: 'The Mall has hosted many uplifting scenes over the years. But it has never hosted anything quite like this before. It wasn't just the sheer volume that took our breath away, it was the diversity, the breadth – cars, lorries, diggers, racers, ice-cream vans, hearses. It was magnificent. It was huge.
He concluded: 'A lot of people say that today, Britain is nothing more than a bank or a boutique or a busted flush. Looking at that staggering collection back there, I'm not sure they're right.'
The programme is repeated tonight (Monday August 5) on BBC2 at 7pm