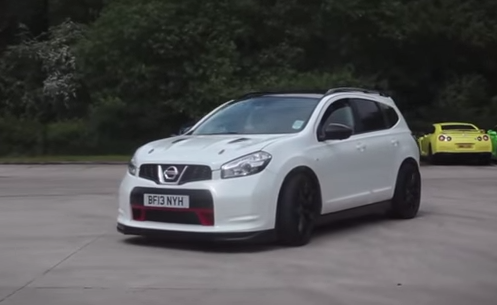 THE Qashqai might be one of the most innovative family cars around – and now we think we might just have found the fastest too!
This special edition Qashqai R, made Severn Valley Motorsport, has a whopping 950bhp and is as fast as a Bugatti Veyron!
Capable of hitting 200mph it can match the supercar's incredible dash to 60mph time of 2.7seconds – and has a super-sized price tag to match of £275,000!
Under the bonnet is the GT-R's twin-turbo V6. Capacity has been increased to 4.1-litres and it's capable of running on ethanol and delivering up to 1150bhp, or around 950bhp on unleaded petrol.
Auto Express' Nick Hall got his hands on the master-tuners' Nissan Qashqai R and this is what he had to say.
"SVM's ultimate Q car is an almighty statement," said Hall. "All rational thoughts about value for money, why they did it in the first place and whether the world really needs a super SUV like this go out the window when you plant your foot.
"It's near Veyron pace in a car that normally drives to the shops. It's surprisingly well sorted, too. What's not to love?"
Take a look for yourself in the video below.