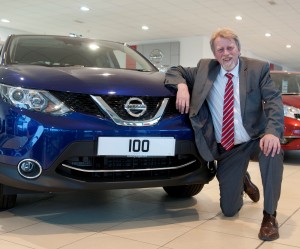 A MOTABILITY Specialist from Cardiff is believed to be the first person in the UK to have made 100 sales of the new Nissan Qashqai.
By the third week of March, Paul Williams, who works at Wessex Garages on Hadfield Road, has sold 100 of the new second-generation model.
Paul explained: 'I am really pleased to have reached my 100th sale of the new next-generation Qashqai and we believe I am the first person in the country to have achieved this.
'The vehicle, which was one of the most highly anticipated vehicles of the year, was launched in January and it has been incredibly popular.
'The model is also a particularly favoured choice for motability customers because of its high seating position, great accessibility and market-leading advance payments.'
The Qashqai, which is built in Sunderland, was the sixth best-selling car in the UK in 2013 during its final year, with sales passing 50,000. Prior to its release, the second-generation model also won What Car?'s Car of the Year for 2014.
The model is available with a range of new turbocharged engines that give improved fuel economy and CO2 emissions compared with its predecessor.
A fantastic achievement
Automatic air conditioning, Hill Start Assist, a five-inch colour HD infotainment screen, Chassis Control, Tyre Pressure Monitoring System and Speed Limiter/Cruise Control are all fitted as standard.
Gareth Howells, general manager at the dealership, said: 'We would like to congratulate Paul on selling 100 Qashqais. It is a fantastic achievement.
'The new model has certainly contributed to the 12 per cent increase in sales of new cars we have been experiencing since the start of the year.
'We are also short on Qashqais in our used car area and are happy to buy any first-generation models from people who would like to trade up so that we can meet the demand in the used car market.'
Wessex Garages is a privately-owned company that has outlets in Bristol, Cardiff, Gloucester and Newport. It specialises in new and used car sales across South Wales and the South West.