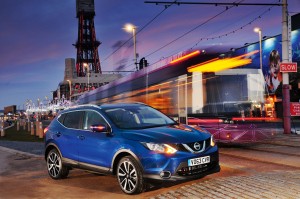 THE verdicts are in! Motoring journalists across the country have tested the brand new Nissan Qashqai – and the overall decision is that Nissan has created another winning package.
Auto Express writer Paul Bond was so impressed, he gave the new crossover built in Sunderland a maximum five stars in his road test, saying: 'Nissan should prepare itself for another sales smash.'
Autocar was equally impressed. 'The Qashqai is a highly competent, well-priced, versatile and market-leading soft-roader,' wrote editor in chief, Steve Cropley.
The latest Nissan Qashqai continues where the old model left off. With bold styling, a premium interior and impressive technology, the new car aims to carry on its market-leading proposition.
In his verdict, Cropley added: 'Nissan has recognised the risk implicit in replacing a much-loved and spectacularly successful outgoing model and done its best to exceed it in every way.
'Customer loyalty after such an important model change is never a certainty, but in this case it must come close.'
It would seem What Car? cannot stop heaping praise on Nissan's new car either. Along with awarding it the much-vaunted Car of the Year 2014 title, the publication believes the new Qashqai makes great strides over the competition.
Quiet and classy
'The outgoing Qashqai was always going to be a tough act to follow, but Nissan has managed to improve this new version in almost every respect,' wrote What Car? road test editor Steve Huntingford. 'It's one of the quietest and classiest cars of its kind, as well as one of the most practical and best to drive.'
Leading online publications gave the Qashqai the thumbs-up too. AOL Cars' James Batchelor concluded he couldn't see any reason 'why the new Qashqai will not retain its stranglehold on the UK's SUV market', adding: 'The British are going to get smitten all over again.'
Meanwhile the folks at MSN Cars said: 'If ever there was a new car that didn't rely on critical opinion, the Qashqai is it… it's still hard to beat.'