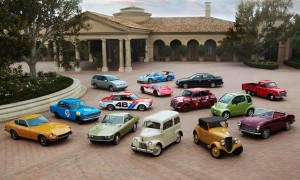 The Nissan 360 global brand showcase held in California recently has produced some impressive numbers.
The 'party' – held to commemorate the 80th birthday of Nissan Motor Company – highlighted the company's latest vehicles and showcased its cutting edge technologies.
And the two-month event was a massive success, generating some fascinating statistics:
The event was attended by 1,500 people, including more than 800 journalists from across the world, investment analysts, dealers, fleet and commercial customers
Participants hailed from more than 60 countries
Together they logged over 15,000 test drives in 100 drivable vehicles on seven diverse test tracks
Those test drives covered in excess of 30,000 miles – about the same distance as the circumference of the earth
In addition to the 100 test cars, Nissan had 32 vehicles on static display. These included Japan's unique 'kei' mini cars, the Nissan Civilian minibus and the latest GT-R
But it wasn't all about test drives. Many of the 800-plus journalists who attended Nissan 360 gained in-depth insight from briefings about Nissan Motor Company's brands and technologies from a total 42 key executives, designers, engineers and product experts from around the world.
And much of the event information was delivered in an environmentally-responsible way by providing participants with a hand-held digital device to receive vehicle and program information, book test drives, and share/store content, thereby obviating the need for reams of paper.
Of course, all that testing in the Californian sunshine meant a lot of refreshments were required.
During the course of the event, Nissan served up:
More than 1,800 hot dogs
17,459 recyclable bottles of water
and 2,300 servings of Ben and Jerry's ice cream
"Nissan 360 showed the world our advanced automotive technologies, innovative products, and the people behind them," said Andy Palmer, executive vice president in charge of Global Product Planning, Corporate Planning, and Global Marketing Communications. "I was particularly pleased with the reaction to our autonomous drive technology reveal. The announcement that we will have autonomous drive vehicles ready for roads by 2020 showed Nissan's leadership in this area, and points the way forward for the exciting developments to come."