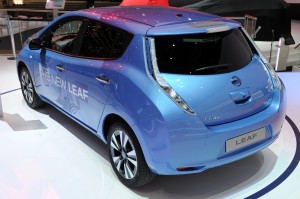 THE NEW all-electric LEAF has taken centre stage at Geneva – just one of the many new products on show at the Nissan stand.
Making its debut at Geneva the new LEAF will be produced at Nissan's Sunderland factory in the UK. Built in Europe and re-engineered for European buyers, it has received more than 100 updates, many as a result of direct feedback from loyal customers.
It all adds up to a car that will spread the electric word even wider.
New LEAF's real-world driving range has been improved by the only visual change to the car: a subtly revised front grille helps reduce the aerodynamic drag coefficient Cd figure from an already impressive 0.29 to 0.28.
The new LEAF's driving range is certified at 123 miles under the New European Driving Cycle (NEDC), which is an increase from 109 miles in the previous model.
By moving the charger from the rear of the LEAF to under the bonnet, it has been possible to increase the luggage area by as much as 40 litres… or to put that another way, about the size of a typical airplane 'carry-on' suitcase. Overall boot capacity has increased to a massive 370 litres.
Another area where Nissan has made everyday life even easier is in the charging port area at the front of the car. Thanks to the introduction of a new LED inspection light, drivers no longer have to rely on street lighting to connect their cars to an electric source at night.
The charging port has been reworked to improve usability and security and its release mechanism now uses an electric switch. Additionally, the charge cable now features an electro-mechanical locking mechanism that removes the requirement to lock the cable to the car manually.
Other detail enhancements include a new i-Key that also controls the charging port cover and cable lock.
These significant updates are incorporated as part of a major range expansion that sees LEAF adopt the familiar Nissan three-tier trim line-up of Visia, Acenta and Tekna to broaden its appeal still further. The Visia version offers a lower price entry point while Tekna models feature even more standard equipment than the original model.