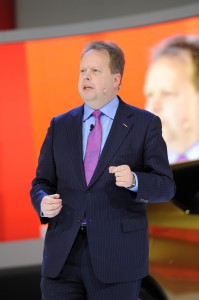 NISSAN are almost certainly unique among the manufacturers showing off their wares at this year's Geneva Motor Show.
The reason? Well, the delegation from the company at the event in the Swiss city includes some of the people who actually make the cars at Nissan's record-breaking plant in Sunderland.
And naturally, they deserve their fare share of the credit for the success Nissan is enjoying today.
Andy Palmer, Executive Vice President, Nissan Motor Co. Ltd., told journalists at the company's press conference this week: 'Our manufacturing plants in the UK, Russia and Spain are booming.
'In 2011, we had a record year in the UK and we smashed that record again in 2012, producing an unbelievable half a million units more than any other British car plant has ever produced in one year!
'Production of LEAF and the new Note will start to roll off the line in the summer. In Barcelona, we're building a new pick-up. Soon we'll be adding our second electric vehicle – the e-NV200.
'And we have just announced that Barcelona will be building its first ever passenger car: an all-new C-segment hatchback.
Dedicated men and women
'In Russia, the story's the same: We're expanding our manufacturing facilities and new models are set to roll off the line.
'We are very proud of our vehicles and our technologies. But none of this would be possible without our people, the dedicated men and women who work in our offices and plants across Europe.
'So we've invited here today, 10 of the production team from Sunderland who are going to build the new Note and LEAF.
'I bet these are the only people you'll see here who actually make the cars.
'From me and on behalf of the company: thank you, and thank you to the thousands of colleagues you represent.'