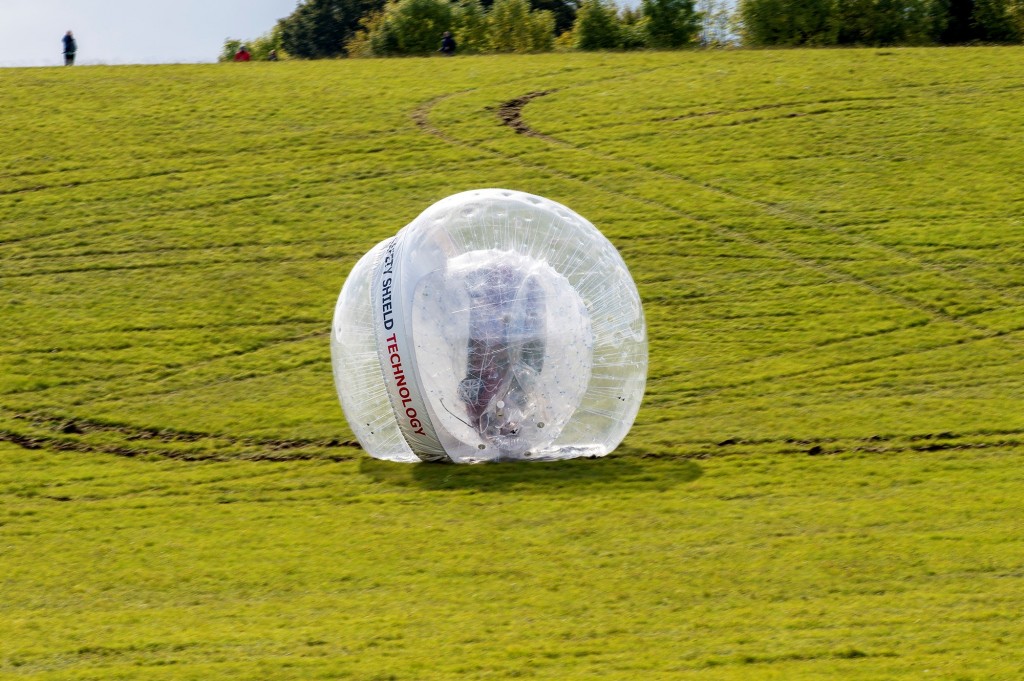 NISSAN has created the world's biggest working Zorb, complete with a full-sized Note safely cushioned inside.
The giant inflatable ball, which measures six metres in diameter and more than 18 metres in circumference, was built to highlight Nissan's Safety Shield technology – a suite of driver-assistance technology to alert motorists to potential hazards – featured on the Nissan Note, its popular small family car.
Nicknamed the "CarZorb", the colossal structure, which took more than two months to build and weighs more than a tonne, was successfully rolled down a course of steep hills in a two-minute film released today. See it in action below:
Zorbing, which originated in New Zealand, sees thrill-seekers roll downhill inside an orb made of hard-wearing inflatable plastic. A Zorb is usually made of two inflatable layers, shielding the individual inside from outside dangers.
To demonstrate its Safety Shield technology, Nissan took the popular pastime one step further and built a bespoke Zorb capable of holding the Note. The CarZorb was then tested at a top-secret military training facility in the UK. The stunt comes as the all-new Note celebrates its first anniversary on Europe's roads.
The Nissan Note is packed with innovative technology designed to make driving safer. Lane Departure Warning, Blind Spot Warning and Moving Object Detection combine to form the Nissan Safety Shield. This unique package is powered by 360° Around View Monitor technology that relies on the unique self-cleaning rear camera – an innovation already breaking new ground in the segment.
Bastien Schupp, Vice-President Strategy & Marketing, said: "The Nissan Note has been carefully engineered to provide motorists with a whole range of technology that creates a protective bubble around you and your car. Our Safety Shield technology in particular is unrivalled amongst other small family cars.
"Creating a life-size CarZorb to highlight the technology is an exciting and memorable way of reminding people about the benefits of Nissan's Safety Shield."