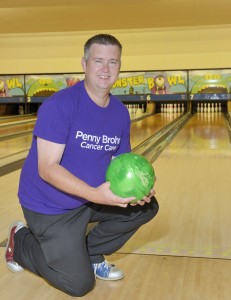 STAFF at a Nissan car dealership in Bristol have organised a 24-hour bowl-a-thon to take place next month in aid of charity.
Wessex Garages will host the event at Hollywood Bowl at Avonsmead, St Phillips Marsh from 9am on November 7 until 9am on November 8 in aid of Penny Brohn Cancer Care.
Adam Davis, digital sales executive at Wessex Garages in Pennywell Road, said: 'We are very excited about the bowl-a-thon. Our aim is to ten-pin bowl for 24 hours.
'There will be four teams taking part. We have a Wessex Garages' team, Penny Brohn staff and volunteers' team, Hollywood Bowl team and hopefully a local celebrity and sportsmen team. All the teams will have four players. Ours will have fixed players for the 24 hours but the other teams will be able to swap team members.
'During the 24 hours there will be bowling competitions, raffles and sweepstakes. Children will also be able to get their faces painted by Penny Brohn volunteers from 4pm until 8pm. Face painting will cost from £1 depending on the design. All the money raised will be donated to the charity.'
Hollywood Bowl is donating a trophy to the winning team.
Adam added: 'We hope lots of people come down to support us and donate as much as they can to Penny Brohn Cancer Care. It is such a worthy local cause. We aim to raise at least £2,000 for the charity.'
Penny Brohn Cancer Care based in Pill has been helping cancer sufferers and their supporters since 1980. Its 'whole-person' approach combines physical and emotional support designed to help sufferers live well with the impact of cancer at any stage of the illness.
We're so excited
Emma Smith, corporate and community fundraiser at Penny Brohn Cancer Care, said: 'We are so excited to be taking part in the bowl-a-thon. It is such a fantastic idea for a fundraiser and we would like to thank Wessex for organising it.'
People can sponsor the Wessex bowling team by popping in during the event or via its Just Giving page.