THE all-electric Nissan e-NV200 has charged to success at the 2021 What Car? Van Awards.
The clever and capable emission-free LCV won the 'Best Value for Ownership Costs' award in the small van category, with judges saying it had the potential to be the 'perfect choice' – particularly for use in and around large cities.
The e-NV200's 40kWh battery means owners never have to spend money on expensive diesel or petrol while its service, maintenance and repair bills are appreciably lower than those of vans with traditional internal combustion engines.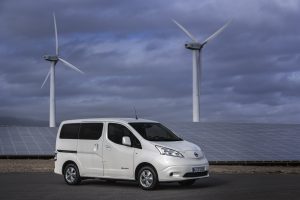 With vehicle-to-grid capability built-in, the e-NV200 even allows electricity to flow in both directions to and from the vehicle.
This allows energy stored in the battery to be sold back to the grid when the vehicle is parked and demand for power is high, earning additional energy bill discounts for the vehicle owners.
Compact, versatile and fully equipped with Nissan Intelligent Mobility technology, the e-NV200 is the enterprising choice for businesses of all shapes and sizes.
The 2021 What Car? Van Awards were the inaugural such accolades to be handed out, even though the team at the well-known magazine and website have been busy testing commercial vehicles since 2018.
Winners were declared in every class of van – compact, small, medium and large – as well as commendations being awarded for the van in each category that is best to drive, best for practicality and best value for money.
Peter McDonald, Fleet Director at Nissan Motor (GB) Ltd, said: 'We're delighted to have won this important accolade at the inaugural What Car? Van Awards.
'We're extremely proud of the 100 per cent electric e-NV200, which is available in van and both five and seven-seat combi forms.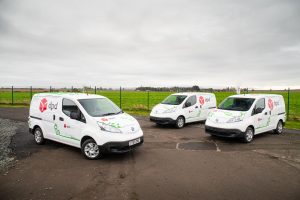 'It's smooth, practical and incredibly efficient, and with its maximum range of 187 miles in city conditions, it gets drivers and their cargos all around the city like true professionals.
'The Nissan e-NV200 is the ideal electric commercial vehicle for any business, whether you're a fleet manager or small enterprise. And when you go 100 per cent electric, low operating costs, high efficiency and surprising performance come as standard.'
Steve Huntingford, editor of What Car?, praised the e-NV200 for being 'a compact van with a high capacity' and added: 'Throw in an electric drivetrain and you're potentially future-proofing your purchase for years to come.
Better residual values
'The e-NV200 has been around for a while, but there's yet to be a credible rival to this big-volume, all-electric van, which draws back on its higher upfront purchase or lease cost by offering far cheaper running costs and better residual values come resale time.
'Indeed, it's those residuals that really set the e-NV200 apart from its closest rivals.
'The e-NV200's age – and its established reputation both as a van and as the underpinnings of the Nissan LEAF passenger car – count in its favour in proving the effectiveness of the technology.
'Nearly a decade after trials first began in London, the e-NV200 continues to prove its durability, and it comes with a five-year vehicle warranty and eight years of battery cover.
'For most owners most of the time, especially in and around large cities where compact dimensions and low emissions are critical, we believe the potential is there for the e-NV200 to be the perfect choice.'