SOUTH Yorkshire radio station Hallam FM and its Cash for Kids charity are enjoying a 'load' of help with its Mission Christmas campaign from the all-electric Nissan e-NV200.
The innovative e-NV200 will be used by the Hallam FM Cash for Kids team to collect presents for the annual campaign, which strives to ensure no child in South Yorkshire goes without a gift at Christmas.
Launched earlier this month, The Mission Christmas appeal encourages people to buy an extra Christmas gift that can then be given to the region's vulnerable and deprived children who are at risk of waking up to nothing on Christmas Day.
The e-NV200 will visit nearly 200 drop-off points across South Yorkshire where the campaign's supporters can leave gifts and bring them back to Hallam FM's Sheffield HQ, from where they will be distributed to organisations responsible for the care of children.
Fully liveried with the logos of the campaign's sponsors, including The Star, the e-NV200 has been donated to the campaign for a month by Inmotion! – a partnership between South Yorkshire Passenger Transport Executive (SYPTE) and the four South Yorkshire District Councils of Barnsley, Doncaster, Rotherham and Sheffield – that works to help local businesses and their employees explore sustainable travel options.
Allan Ogle, Cash for Kids Charity Manager, said: "The e-NV200 will be a massive boost to the campaign and is essential for visiting the drop-off points, such as supermarkets, where there is a very high quantity of gifts.
"Its environmental compatibility fits in perfectly with our ethical fundraising practice and its technology makes it perfect for the stop-start driving that we'll use it for, while its impressive range means it can reach drop-off points that are further afield too."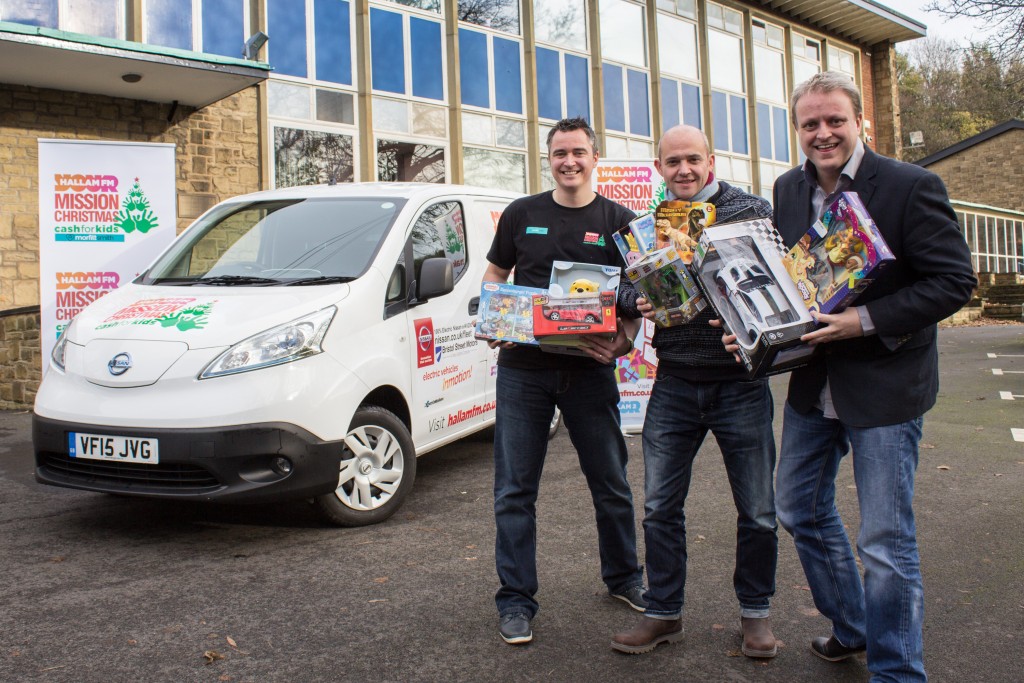 Steve Edwards, Executive Director at SYPTE added: "When we saw the appeal for a van to collect the presents donated for Hallam FM's Mission Christmas, we wanted to get involved straight away and approached our colleagues at Nissan to see whether they would loan one of their 100 per cent electric e-NV200 vans available through our electric vehicles Inmotion! scheme.
"Not only will they be driving around South Yorkshire in a zero emission vehicle, they can also charge-up for free at one of the 10 different Inmotion! charging points we have installed across the region.
"We are also delighted to announce that SYPTE will be supporting Hallam FM's Mission Christmas by offering Broad Street West as a gift drop-off point until Monday 14th December."
The e-NV200 is based on the Nissan NV200 – International Van of the Year 2010 – and utilises the proven technology of the record-breaking Nissan LEAF.
In addition to low running costs and zero emissions mobility, users also benefit from low maintenance costs that make for unrivalled total cost of ownership – £1,200 lower than a conventional diesel van over four years – and an unbeatable proposition for businesses large and small thanks to the unique driving experience of the e-NV200, drivers will feel less fatigued due to the lack of engine vibration in the cabin.
Meanwhile, the model, which is priced from £13,568 in panel van form (incorporating PiVG), offers a class-leading 4.2m3 capacity and an impressive 703kg payload.