Nissan had a busy and successful time at the Goodwood Festival of Speed over the weekend – with crowds thrilled to see iconic cars from the manufacturer's past, present and future in action at the world-famous event.
Held in the beautiful parkland surrounding Goodwood House in West Sussex, the Festival of Speed is hailed as motorsport's ultimate summer garden party – and Nissan was delighted to be front and centre throughout the four-day extravaganza.
As we have reported on Nissan Insider, Andy Middlehurst, who runs Middlehurst Nissan in St Helens, Merseyside, tackled the famous Hillclimb course behind the wheel of an incredible Nissan Skyline GT-R R32, an example of the famous performance car designed to achieve racetrack success in Japan in the late 1980s and nicknamed 'Godzilla'.
Equipped with four-wheel drive and a 2.6-litre twin-turbo engine capable of being tuned to produce 1,000bhp, it is said to be able to reach a top speed of 156mph with a 0-62mph time of about three seconds.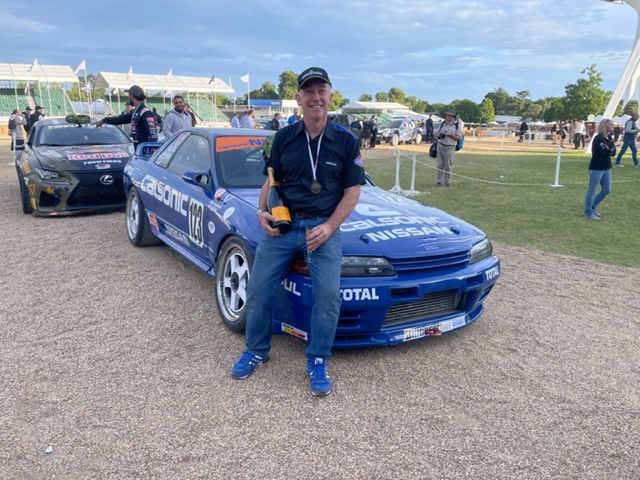 Andy enjoyed considerable success at the festival, winning Category G, also known as the 'Tintop Titans' class for racing saloon cars. After qualifying for Goodwood's famous Sunday Shootout, he completed the Hillclimb in a time of 51.32 seconds, which gained him very creditable 15th place overall.
He said: ''The weekend was brilliant. Lots of people loved seeing the car – it's an iconic piece of kit. And it performed very well considering it's 30 years old – it was up against a lot of far more modern electrified machinery, not to mention competitors from Formula One.''
The Juke Hybrid Rally Tribute, celebrating Nissan's participation in the East African Rally 50 years ago, was also in action at the festival.
The unique car, driven at Goodwood by experienced rally driver and Sun motoring editor Rob Gill, performed demonstration laps of the estate's tricky rally circuit.
Alongside the concept, in the Rally Service Zone Area, was a replica of the East African Safari Rally winning Nissan 240Z, especially developed for display purposes alongside the modern hybrid version.
There were more nods to Nissan's impressive motorsport credentials. A Sunny rally car – a former Nissan Motorsports Europe Rally car driven by Alister McRae – and both winning Primera BTCC touring cars were on display and being taken up the hill, while a Group C car was also spotted in action doing its stuff.
Yeomans Nissan Bognor had an all-electric LEAF on display in the Electric Avenue area which was attracting a lot of attention.
Also on public display for the first time in the UK was a new Juke Hybrid, which arrives in Nissan showrooms across the UK next month.
Designed to provide the driver with responsive acceleration, refined cruising and efficient low emissions, while emphasising maximum use of EV mode without any additional driver input, the Juke Hybrid delivers the best of all worlds and is sure to be a huge success.
A Nissan spokesperson said: ''We were delighted to be involved in the Goodwood Festival of Speed this year – it's a gathering unlike any other in the automotive calendar and one that thousands of people look forward to every year. Roll on the 2023 event!''