Nissan GB is proud to announce charity partnerships with Sported and The Richard Whitehead Foundation as part of the launch of the Nissan Possibilities Project, the company's new CSR initiative to create more opportunities for under-represented communities.
Nissan GB will be working with the Sported network of 2,600 community clubs to help create better participation opportunities for young people with disabilities. Sported provide coaches and volunteers with the knowledge, guidance and funding required to break down the multiple barriers to participation.
In partnership with the Richard Whitehead Foundation, Nissan GB will fund the provision of running prosthetics to young people with leg amputation, limb-loss or limb difference. The prosthetics will enable greater participation in running and other sports, and the Foundation will also provide support and advice.
Building on the partnership, Richard Whitehead MBE – who recently returned from the Paralympic Games in Tokyo, where he won a silver medal in the T61 200 metres for Paralympics GB – joins Nissan GB as a Diversity & Inclusion Ambassador to support the brand's long-term goals and vision for the Nissan Possibilities Project.
Radio 1 DJ Adele Roberts also joins Nissan GB as a Diversity & Inclusion Ambassador. Adele is a proud advocate for the LGBTQ+ community, and in 2020 won the award for Broadcaster of the Year at the British LGBT Awards. She is also a keen runner and has completed the London Marathon twice, as well as being a regular presenter for the BBC on the London Marathon coverage.
Richard and Adele will both support Nissan at the London Marathon, where Richard will be running and Adele will be providing the music in the Nissan LGBTQ+ Cheerzone.
Andrew Humberstone, Managing Director at Nissan GB, commented: "People with disabilities should have the same opportunities in life as anyone else. We're really delighted to be working with Sported and the Richard Whitehead Foundation to create more possibilities for greater inclusion across a number of sports and bring about positive changes in our society."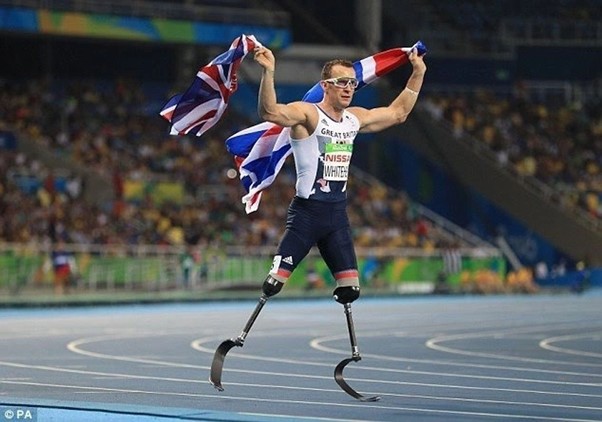 Founder of the Richard Whitehead Foundation, Richard Whitehead MBE, said: "I'm passionate about helping young people with disabilities live their lives without limits. Working with Nissan, we can really accelerate our work to get more people living with limb-loss or limb difference into running."
Nicola Walker, CEO at Sported, added: "Sported is thrilled to be partnering with Nissan to help tackle inequalities in physical activity for young people with disabilities. While the pandemic has impacted the ability of all young people to run and play, we have seen from our network that those living with disabilities have been disproportionately affected – facing increased isolation measures, a lack of suitable facilities and equipment, and a shortage of coaches with the necessary skills and experience.
As a result of this partnership with Nissan, Sported will deliver a multi-year programme of funding and educational support and guidance for community running and sports groups, their coaches and volunteers."
Adele Roberts said: "I am very excited to be working with Nissan as part of their Possibilities Project, working towards greater inclusion for the LGBTQ+ community. In my experience, making sure the community is supported, seen and heard is fundamental, so I'm looking forward to being part of this journey with Nissan."
With the announcement of these charity partnerships and new brand ambassadors, Nissan is proud to launch the Nissan Possibilities Project, the company's long-term CSR initiative to support under-represented groups at a grassroots level.
The initiative builds on the company's existing commitments to disability and LGBTQ+ inclusion. Nissan last year joined the Valuable 500, a community of businesses pledging to put disability on the leadership agenda, and earlier this year became Pride 365 certified.