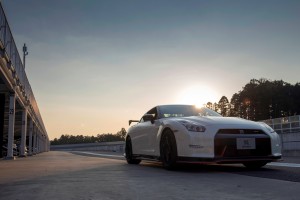 DEVELOPED, honed and perfected during extensive testing in Europe, the Nissan GT-R Nismo will return to make its European debut at the 2014 Geneva Motor Show on March 4.
With DNA from the legendary Nismo global racing team, the ultimate GT-R is a race-oriented model delivering 'factory tuned' supercar dynamics with revolutionary enhanced aerodynamics and ultra-precise handling.
The Nissan GT-R is already established as one of the best performing supercars in the automotive sphere, and now Nissan has drawn on decades of racing experience gathered by Nismo, the brand's motorsport specialists, to develop the ultimate Nissan GT-R.
The Nissan GT-R Nismo features exclusive styling that embraces the long-standing racing philosophy of form following function. It has numerous motorsports-inspired technologies to enhance the car's performance through optimised aerodynamics, suspension and powertrain, creating a well-balanced machine that is at home on both the road and track.
The Nissan GT-R Nismo is now available in Japan, and will go on sale in Europe in September. Complementing its authentic Japanese racing heritage, the new GT-R flagship also has roots in Europe, having been developed and tested at Germany's famous Nürburgring Nordschleife, widely considered to be one of the most challenging circuits in the world.
Nissan CEO Carlos Ghosn says this is the fastest Nissan GT-R ever. 'With a 7:08.679 lap time, we can authoritatively say that the Nissan GT-R Nismo*2 holds the volume production car lap record at the Nürburgring Nordschleife, which is the gold standard of high performance achievement.'