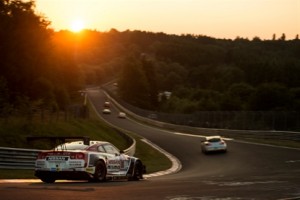 GT Academy graduate Florian Strauss shone at the Nurburgring 24 Hours in the number 80 GT-R NISMO GT3 finishing 14th in class.
The youngster, who has only been racing for nine months, had to step up to the challenge of eight hours in the hot seat after team mate Lucas Ordonez was struck down with flu.
Problems struck early, though, when on lap one contact forced Strauss' teammate Alex Buncombe to pit car number 80 for repairs, instantly losing a lap on the competition.
Strauss said: "We had a bit of bad luck in the beginning so I wanted to make sure I did everything I could to catch up again.
"I caught Chiyo-san (in the No.30 Nissan) at one point and we had a good battle together as we went through traffic so that was very exciting. I made sure I kept calm and got into a good rhythm to do the best I could for the team."
The No. 80 was then in fight back mode for the remainder of the race. Buncombe was able to lap on the pace of the leaders but despite his best efforts, and those of Nick Heidfeld and Strauss, the mountain was too high to climb.
Heidfeld put in some great stints in the No.80 GT-R but came unstuck during the night when he made contact with another car. The resulting damage put the GT-R out of action for an hour but once back in the race it ran well.
"Overall I have enjoyed the race and it is good to get my first Nurburgring 24 Hours finish, despite not taking the position we hoped for," said Heidfeld. "Realistically we had the pace for a top 10 finish."
The highest finishing Nissan was the No.24 GT-R of Schulze Motorsport, raced by Kazanori Yamauchi, Jordan Tresson and Tobias & Michael Schulze. They crossed the line in 12th position in class.
The No.30 Nissan GT-R NISMO GT3 – driven by Michael Krumm, Kazuki Hoshino, Katsumasa Chiyo and Tetsuya Tanaka – ran strongly but an accident caused it to withdraw at 2.30am.
"Before we came here we knew what a big challenge this event was," said Darren Cox, Global Head of Brand, Marketing & Sales, NISMO. "We went head-to-head with established teams who have been coming here for years and I'm proud of the job we did here."