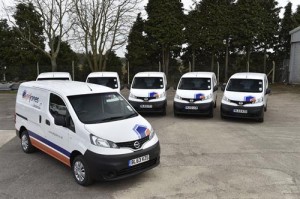 PH JONES, a subsidiary of British Gas, has taken delivery of 227 Nissan NV200 SE vans to help the heating maintenance company deliver central heating and renewable energy services across the UK.
Originally established in 1963 as a local heating contractor in the North West and Wales, PH Jones has expanded to become a social housing provider to homes across the country providing central heating installations, heating service and repair and electrical services.
Before agreeing to the deal, PH Jones underwent a four-week trial of the NV200 SE, complete with full racking, to test whether the van would be the appropriate vehicle for its fleet daily usage patterns. Drivers praised the NV200 SE for its comfort plus its ability to safely house all of their repair tools and equipment.
Switching from a fleet of Citroen Berlingo and Dispatch vans, the new NV200 SE vehicles come complete with a striking PH Jones livery and will cover approximately three million miles per year.
Jon Marshall, PH Jones fleet manager, said: 'This is a very large order for us so it was important we undertook an intensive vehicle trial to ensure the vans would be fit for purpose. As well as being a hit with the drivers thanks to the handling and air conditioning, the support from Nissan throughout has been excellent and we look forward to continuing to work together in the coming months.'
Barry Beeston, Nissan GB corporate sales director, said: 'This marks one of our largest van deals and we're pleased to hear the NV200 SE was an excellent fit for PH Jones. It's important that homes up and down the country can rely on a rapid and reliable response from their heating repairer and the NV200 SE will help with that process.'