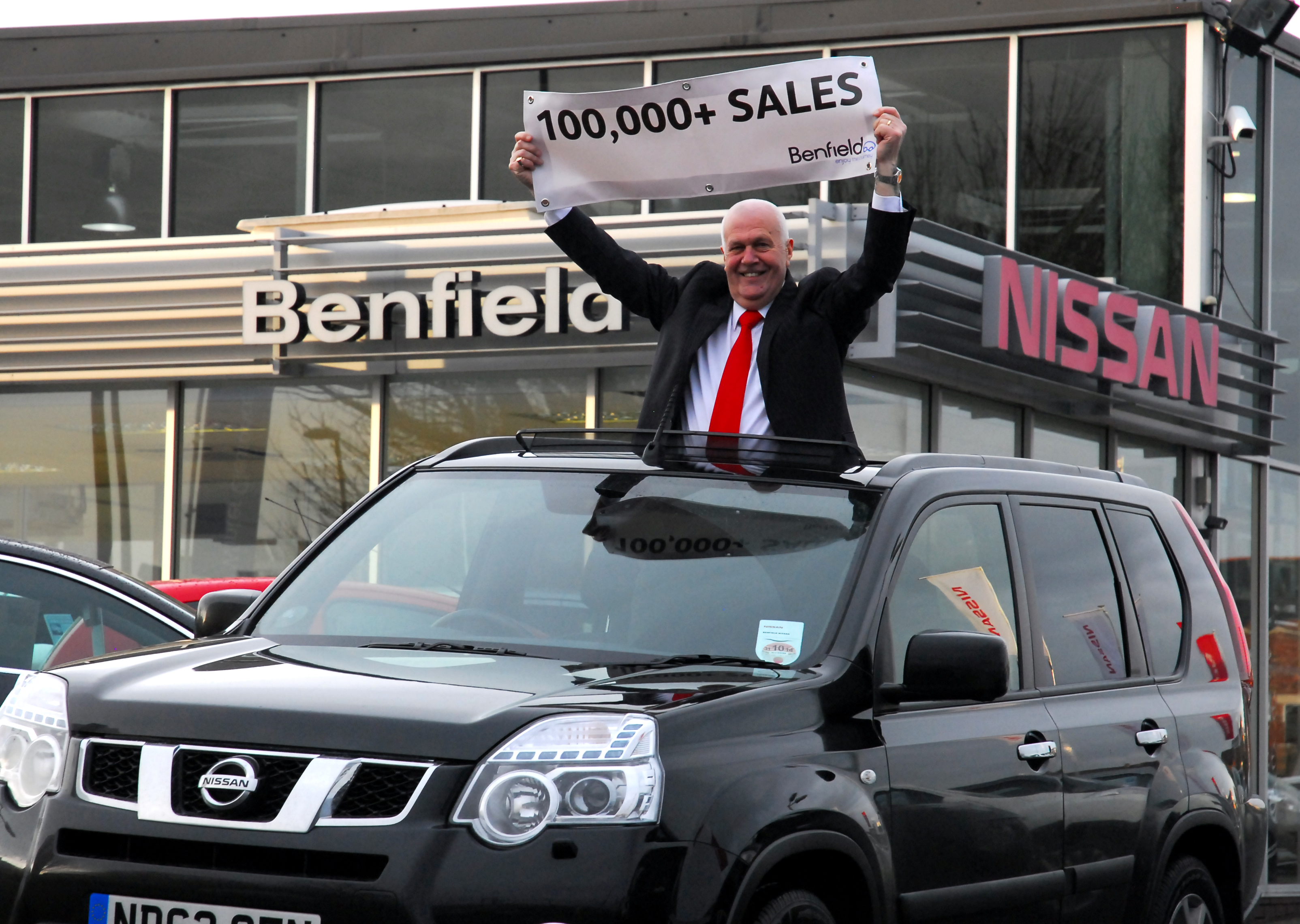 A NORTH Shields man who has helped Nissan become a powerhouse of the UK automotive industry is calling time on his incredible career after being involved in a staggering 100,000 car sales over more than half a century.
Super salesman Ken Searle, 67, clocked up the amazing tally of new and used car deals during his 52 years as sales manager, general manager and business manager for the North East's largest Motor Group, Benfield.
Based at Benfield's Portland Road site, the grandfather-of-five started out selling British Leyland models at the group's first car dealership, then Addison Motors in Byker, before joining the original team selling Datsun – Nissan's forerunner – when it first launched in the UK in 1973.
Since then he has remained firmly at the helm of the group's Nissan franchise, selling tens of thousands of cars, helping Benfield become an established name and making a major contribution to Nissan's ever-growing market share.
In recognition of his achievement, Benfield's Chief Executive, Mark Squires, presented him with a beautifully crafted Japanese Kokeshi doll on behalf of Nissan UK, and a specially commissioned caricature courtesy of the dealer group and his colleagues.
A proud Ken said: 'I've loved every minute of my career and I wouldn't have changed a thing.
'Nissan's been a great brand to work with and it's been brilliant to watch it grow, particularly here in the North East where many of the cars are made.
'And it's been a privilege working for Benfield. This is a real family firm where people really care about each other.'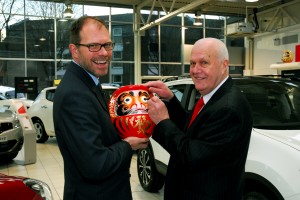 Casting his mind back over his long career Ken, who is looking forward to enjoying a relaxing retirement with wife Christine, can still clearly remember his first Datsun sale – a shiny new 100a for a penny under one thousand pounds.
'Datsun were superb then,' he recalled. 'Everything was in the Datsun, whereas you got nothing with another car.
'There was no difficulty in getting local people to go for the brand either because of the price. Everything was there and there were no extras to find.
'Once Datsun started introducing a few more models we were selling them like hotcakes.'
In the early 80s, when Datsun became Nissan, Ken's big sellers changed and he found himself selling huge volumes of familiar models such as the Micra and Cherry.
However, Ken's favourite model was a luxurious Nissan executive saloon that came later – the QX.
'The QX was a fantastic car,' he said: 'They didn't fly out of the showroom but they were very popular because of all they offered. They had leather and all the gizmos.
'It was a model that just sold itself.'
Another model that sold itself was the Nissan Silvia – a sleek sports coupe – Ken once sold to legendary comic Norman Wisdom, who walked into the Benfield showroom and paid cash.
But although Nissan has grown to become Britain's biggest carmaker, Ken remembers it wasn't all plain sailing for the brand.
'When the factory opened down the road it didn't really help sales because nobody wanted a Geordie-built car. They all wanted Japanese. The Japanese cars were so reliable and nobody trusted a car made locally.
A massive contribution
'But thankfully that soon changed. The factory got better and better and so did the products and soon everybody wanted Nissans again and British-built ones at that.'
Following Ken's retirement, Nissan GB Sales Director Jon Pollock, paid tribute to the part he played in the company's success.
He said: 'By playing his part in more than 100,000 car sales – the vast majority of them Nissan models – Ken has made a massive contribution to our success.
'All of us at Nissan wish him all the very best for a long and happy retirement.'
Mark Squires, Chief Executive, Benfield Motor Group, added: 'We are all very proud of Ken and his amazing career and record of car sales. He is a very popular figure with many thousands of our customers across our region and we are privileged to have had such a loyal, dedicated, hugely likeable and successful employee working for us for all these years. We will all miss him and wish him and his family a long and happy retirement.'