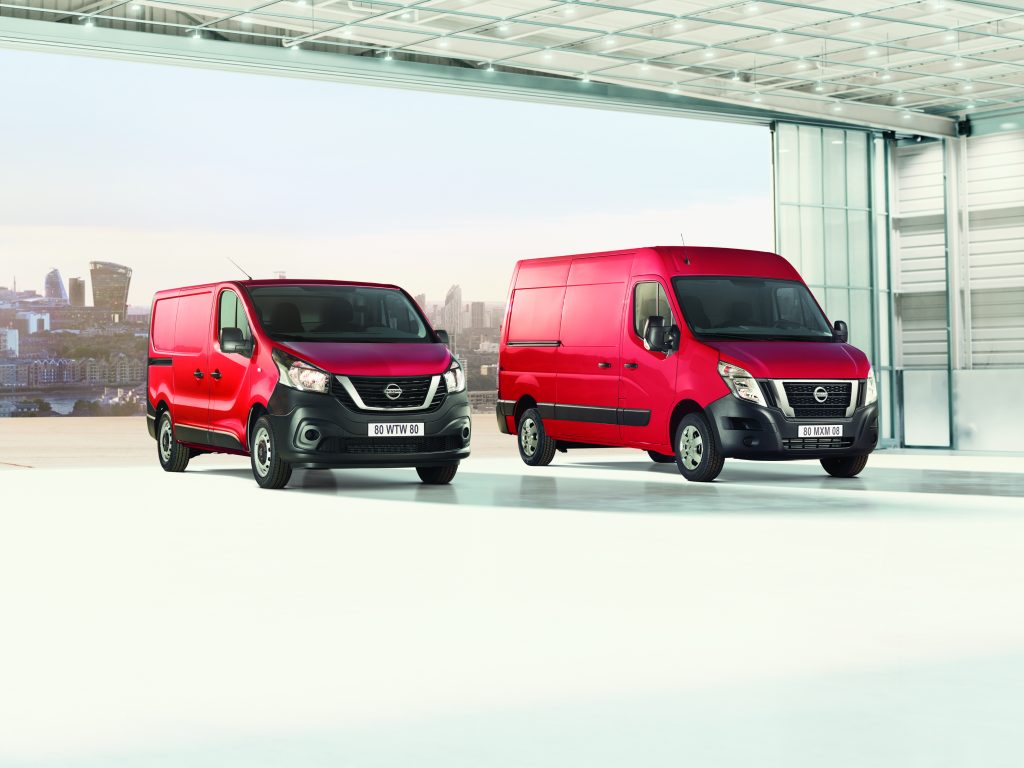 NISSAN has revamped its mid and full-size van range, updating both the NV300 and NV400 with efficient engines, all-new interiors and smart tech options ensuring the best user experience.
The new models feature efficient powertrains meeting new Euro 6d-TEMP emissions standards, with cleaner engines and reduced NOx.
Efficient engines and a new Dual Clutch Transmission
NV300
The Nissan NV300 is a robust choice for passengers or cargo, with the mid-sized van offering spaciousness and comfort. This latest update now adds even greater power to the range thanks to the introduction of 170HP and 145HP engines plus the option of brand new Dual Clutch Transmission (DCT) which allows for improved driver comfort through smoother acceleration and dramatically improved fuel efficiency. There are six versions available:
170 HP (manual and automatic)
145 HP (manual and automatic)
120 HP (manual)
95 HP (only available for van versions)
NV400
Available in a variety of body types – including Panel Van, Dropside, Tipper or Crew Van – the NV400 is sturdy and resilient providing the customer with a van customisable to their specific business needs. The full-sized NV400 is powered by the same 2.3-litre diesel engine as fitted in the acclaimed Nissan Navara pickup and features the new Nissan 'interlocking grille 'giving distinct truck like ruggedness'. There are five versions:
180 HP (manual and automatic)
150 HP (manual and automatic)
135 HP (manual)
Comfortable cockpit and enhanced driver comfort
NV400
With the aim of improving driver comfort, the cabin of the NV400 has been completely refreshed. This includes:
All-new dashboard and steering wheel design for improved comfort, ergonomics and premium appearance
Improved storage & utility including pull-out tray and generous door panel storage
New features such as wireless charging and an updated Infotainment system in the style of a smartphone replication
NV300
The NV300 interior has also been given an impressive revamp thanks to upgraded seat fabric, satin chrome finishes, a new dashboard colour (black instead of the previous grey) and improved equipment, including a new-generation DAB audio system.
Enhanced technology and connectivity
The NV300 and the NV400 offer drivers incredible connectivity, bringing additional levels of functionality and comfort to make long journeys easier and more enjoyable. In both vans, this includes Android Auto and Apple CarPlay for seamless smartphone integration. There is also a new-look interface on the 7-inch touchscreen infotainment system, which replicates the familiar layout of a smartphone and provides fast access to maps and media services.
In addition, the NV400 sees the addition of several new Nissan Intelligent Mobility safety features, including Front Park Assist, Blind Spot Warning and Side Wind and Lane Departure Alert. Also included are auto wipers and lights, Rear Park Assist, rear view camera and Hill Start Assist. While for enhanced security in the loading area, extra locks have been added to the rear and side doors.
"Introducing the brand new Dual Clutch Transmission to Nissan's mid-sized van, NV300, allows for smoother acceleration and dramatically improved fuel efficiency. This development has allowed Nissan to significantly enhance the overall driver comfort and engine performance," said Paolo D'Ettore, Light Commercial Vehicles (LCV) Director for Nissan Europe.
He added: "We understand that keeping down total cost of ownership without sacrificing on essentials like comfort, safety and technology is vital for commercial drivers who make a living from driving but who also spend a great deal of time on the road. That's why we continue to improve our entire range of LCVs as part of our Your Future Guaranteed promise. This includes the newly upgraded NV300 and NV400, which are now more cost-effective, comfortable and connected than ever."
Like all Nissan LCVs, the updated NV300 and NV400 ranges are backed by a five-year Pan-European warranty giving owners reassurance and dependable service if and when they need it.
For further details on the NV300 and NV400 please head to the Nissan website.