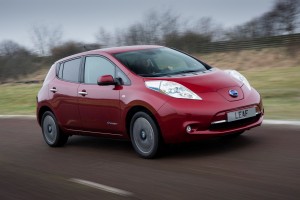 CHANCELLOR George Osborne delivered a boost for electric motoring in yesterday's Budget – much to the delight of carmaker Nissan.
Benefit In Kind tax levels on Electric Vehicles (EVs) from April 2015 will be five per cent of their P11D price in 2015/16 rather than 13 per cent as previously announced.
A 20 per cent tax-paying LEAF driver will pay £284 per annum or just £24 per month in company car tax while a 40 per cent tax payer £569 per year or just £47 per month. This compares very favourably with competing five-door diesel cars from other car makers.
Jon Pollock, Nissan's corporate sales director, said: 'The Budget announcement means that by keeping BIK rates for company EV drivers at the lowest rate, more will look to choose an EV like the LEAF as their next company car.
'This should increase EV sales, at the same time as helping bring down emission levels which is a priority both for companies meeting their corporate CSR objectives and for cities such as London to meet future EU emission targets.
'It will also help encourage companies to add the LEAF to car choice lists again as they can plan their company car strategy in the knowledge their drivers won't take delivery of an EV and then immediately receive a massive hike in their personal BIK tax rates after April 2015.'
More than 50,000 Nissan LEAFs are on the road worldwide and UK production of the emission-free hatchback begins soon at the company's Sunderland plant.