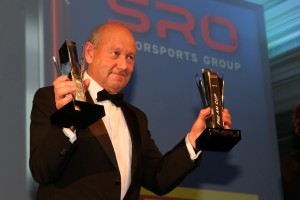 NISSAN has this week been honoured with the Autosport Award for Pioneering and Innovation for GT Academy.
Nissan's Director of Global Motorsport, Darren Cox, accepted the coveted award from F1's Paul Di Resta during a ceremony that was attended by the great and the good of the motorsport industry.
With legends including Niki Lauda, Sebastian Vettel, John Surtees, Sir Stirling Moss, Ari Vatanen and John McGuinness in the audience at the Grosvenor House Hotel in London's Park Lane, it was a special night for Nissan, for Sony and for GT Academy.
Nissan started last weekend celebrating an amazing season for GT Academy, which has seen the graduates notch up an incredible 41 podium finishes.
At SRO's Night of Champions they came away with a staggering five awards. Lucas Ordonez and Peter Pyzera collected their trophies for first and third places respectively in the Blancpain Endurance Series, while Nissan GT Academy Team RJN boss Bob Neville had his hands full with trophies for the Blancpain team's title, the Silver International GT Award and a trophy for second place in the team's championship in the FIA GT Series.
The weekend saw not only a huge exclamation mark on an amazing season for Nissan GT Academy, but recognition of the way it has changed motorsport over the last five years with the Autosport Award for Pioneering and Innovation.
Darren Cox accepted the award on behalf of the team behind GT Academy and explained the thinking behind the programme that host Steve Ryder described as 'a new way of tapping into a whole reservoir of talent'.
'There have been so many stories about drivers paying to be in F1,' said Cox. 'Everyone in this room knows a driver who should have got there but didn't make it but we're finding drivers who didn't even know where they wanted to be.
'We're taking drivers from the virtual world to the real world and making them successful. The first year people thought we were lucky, and then we must have kept getting lucky!'
Sense of pride
'Innovation is often painful,' he continued. 'There have been many bumps in the road but it has been worth the effort as we are rewarded every step of the way by the sense of pride we feel when one of our graduates stands up there on the podium, alongside guys who have been racing all of their lives. It's a real team effort; a close-knit team that I am immensely proud of.'
2014 will see the Nismo Athletes competing across the globe, against the toughest competition, in some of the world's hardest races.
'GT Academy continues to prove again that Nissan is innovating on track, online and on the road,' commented Andy Palmer, Executive Vice-President of Nissan. '2013 has been an amazing year for the programme, but 2014 will see even more excitement as we expand even further globally and our drivers progress further up the real motorsport ladder.'
The picture on the home page of Nissan Insider shows Darren Cox accepting the Autosport Award