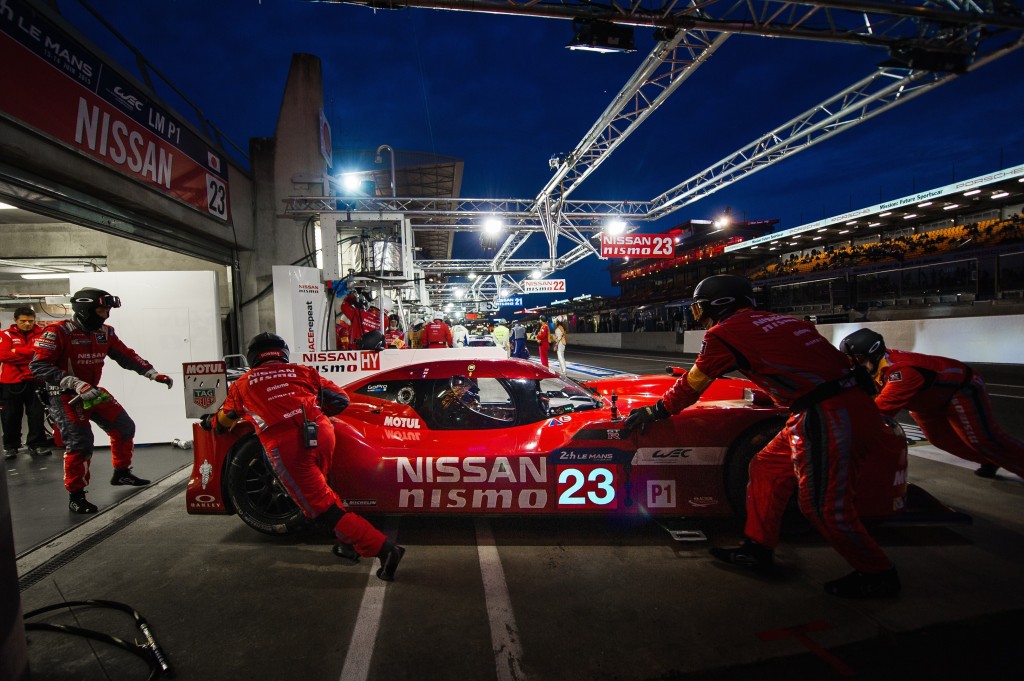 NISSAN'S return to Le Mans has begun.
All of the entrants for the 2015 Le Mans 24 Hours took to the track for the first practice session at Le Mans.
Tsugio Matsuda (JAP), Harry Tincknell (GB) and Jann Mardenborough (GB) were first out in the three Nissan GT-R LM NISMOs, ready to make the most of the track time available during the four-hour session.
The programme for practice focused on getting as much running as possible for all nine Nissan LM P1 drivers. The Nissan GT-R LM NISMO is still at an early stage of its development so the biggest gains can be found by providing the drivers with as much seat time as possible.
The circuit was damp to start with but as it dried the times began to tumble.
After his initial run in the GT-R LM NISMO, Jann Mardenborough commented: "We're moving forward and making good progress. The car feels more and more sorted with each run and there are still a lot of things we can do to improve it, such as dropping the front ride height to work better with the aero tunnels."
Despite numerous snags during the practice session the #21, #22 and #23 cars completed 19, 16 and 19 laps respectively as they prepared for the first of Le Mans' three qualifying sessions.
Jann Mardenborough's lap time of 3:38.468 put him in 12th position as the leading Nissan GT-R LM NISMO.
Added to the laps completed by Max Chilton and Olivier Pla the #23 car completed a further 18 laps in Qualifying 1.
The #22 Nissan in the hands of Harry Tincknell, Michael Krumm and Alex Buncombe ended the session in 21st place after completing a further 18 laps.
Tsugio Matsuda, Lucas Ordonez and Mark Shulzhitskiy managed only nine laps and posted a time to put the in 31st position.
"It's good to get more mileage on the car and to get our mandatory night laps done," said Tincknell. "It's always fun to drive in the dark at Le Mans and we're pleased to have got through more jobs and ticked some more boxes."