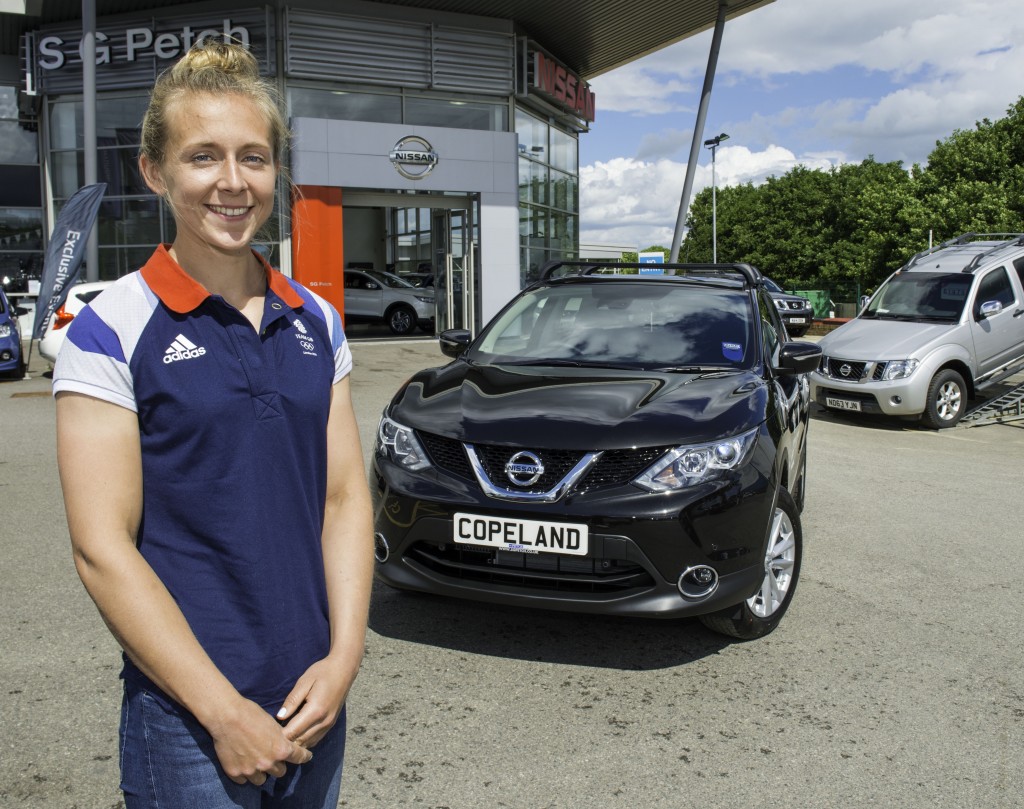 DURHAM residents will be able to meet and chat to an Olympic gold medallist as she visits a city exhibition looking at Nissan's huge economic impact on the North-East.
Teeside's rowing superstar Kat Copeland MBE will appear at the Oriental Museum in Elvet Hill Road on Thursday, September 24th, from 11am to 1pm, where she will explore Nissan: 30 years on.
Kat and Durham's official Nissan dealer, SG Petch on Broomside Park in Belmont, have formed a winning relationship over the past year as she gears up for Rio 2016.
SG Petch has supplied the 24-year-old, from Stockton on Tees, with a stylish all-new Nissan Qashqai – built at Nissan's hugely successful Sunderland plant – which allows her to travel between home and the GB rowing base in Caversham, Berkshire. It is also spacious enough to accommodate Kat's three-metre long rowing blades and has been fitted with roof bars to carry her single scull boat.
Kat, who won her gold in the women's lightweight double sculls alongside Sophie Hosking, will be available to sign autographs and pose for pictures at the museum as she picks up her new Nissan from SG Petch.
She said: "The support from SG Petch and Nissan has been quite simply fantastic. To have free use of a Nissan Qashqai is amazing as my last car was literally falling apart and was so unreliable. It was taking up so much of my time. Now I can just concentrate on my training and performance, knowing that my Qashqai won't let me down."
The Nissan exhibition – a collaboration between photographer James Sebright and writer and audio artist Rachel Cochrane – reflects on the impact of three decades of Nissan on the lives of the people in the North-East.
The project – sponsored by Durham University and Arts Council England and supported by the Oriental Museum, North East Chamber of Commerce and Nissan Motors UK – runs until 18th October, 2015.
Kat added: "I'm really interested in seeing the exhibition. Nissan is the biggest employer in the region and has had a huge impact on people's lives over the past three decades."
Sam Petch, Dealer Principal at SG Petch Nissan, said: "We are absolutely thrilled to be able to support Kat on the road to Rio and I'm sure she will absolutely love her new car.
"It's a great source of pride for everyone at the dealership knowing that we are backing such a successful and well-known athlete and are playing some part in helping her towards more success in Rio."
As part of its sponsorship of Team GB & ParalympicsGB, Nissan has launched their 'Be the heartbeat of Britain' campaign, which will unite fans behind British athletes, celebrating their passion and engaging the nation in the build up to the Games.
Fans can follow the campaign through the hashtag #UniteAndExcite or at www.nissan.co.uk/uniteandexcite