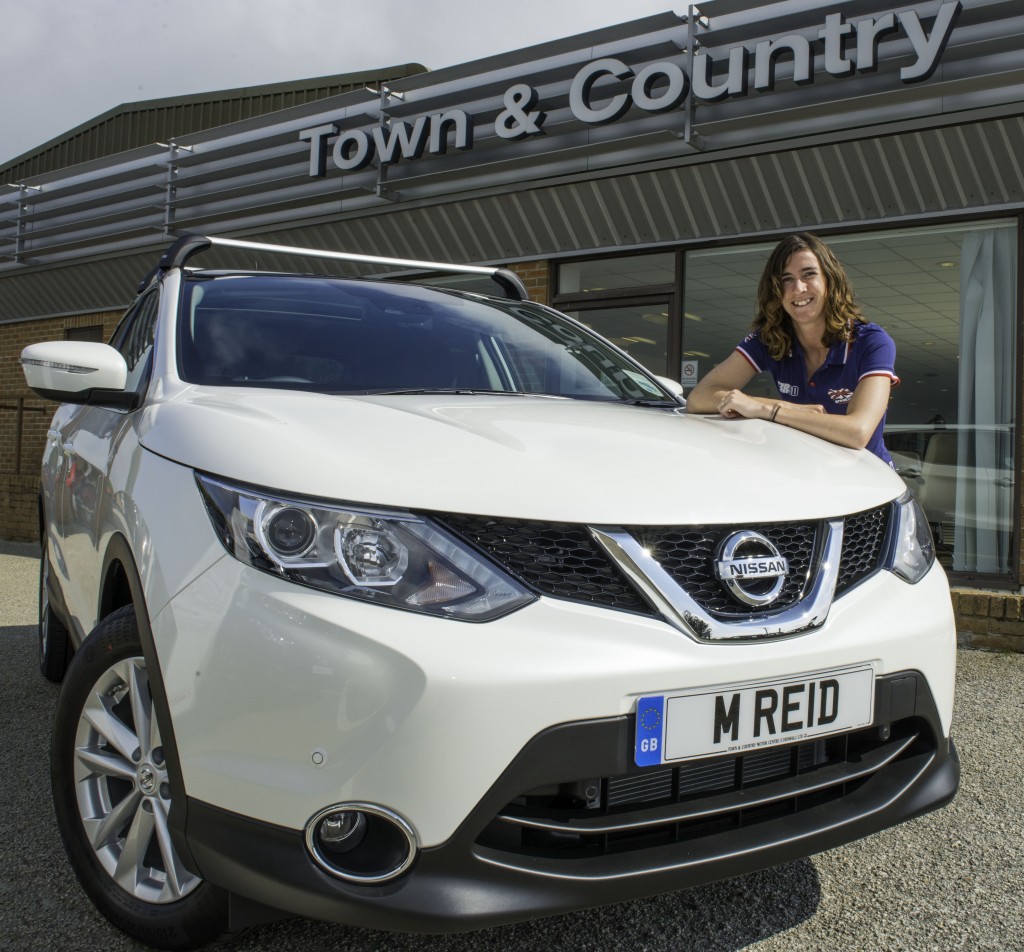 CORNWALL'S double world champion paratriathlete Melissa Reid has received a major sponsorship boost as her preparations for the Rio 2016 Paralympic Games intensify.
The 23-year-old from Truro and her family were presented with an all-new Nissan Qashqai by local dealership Town and Country Motor Centre.
They will use the car to transport Melissa, who is severely visually impaired, tens of thousands of miles each year to training sessions and competitions.
And it will ease the huge financial burden on the family, who fund Melissa's sporting career with minimal backing.
Dad Allan, Melissa's coach and a self-employed electrician, said: "I can't stress enough just how important having a car is for Melissa and what this support means to us all.
"Melissa has to travel to all training sessions and competitions with a tandem, which can cost up to £10,000, and we clock up thousands of miles each month.
"It is a big financial commitment, and even though we have a five-year plan for Melissa's sporting development, it's a case of making it work day to day. But we promised Melissa we would never let money get in the way.
"Having the Qashqai will take a huge financial pressure off us and frees up vital finances, which can now be spent on another part of Melissa's development."
Melissa began competing in 2011 and has enjoyed a stellar rise to the top of her sport, which involves a 750m swim tied to the ankle of her guide, a 20km tandem bike ride and a 5km run tied to her guide at the waist.
The sport will feature in the Paralympic Games for the first time at Rio 2016, and as double world champion Melissa is one of the favourites for gold.
Collecting her new car, she said: "As a Paralympian, sponsorship can be very hard to come by, and so having this kind of backing from Nissan and Town and Country Motor Centre is fantastic.
Partnership
"I know that my sport puts a lot of financial pressure on my parents, and so having this car makes things much easier and will allow me to focus more on my training."
The partnership between the dealership and Melissa was formed through Nissan's role as the Official Automotive Partner of Team GB and ParalympicsGB on the road to the Rio 2016 Olympic & Paralympic Games.
As part of this, Nissan has launched the innovative #UniteAndExcite campaign, which will provide fans with exclusive behind-the-scenes access to athletes' stories and news of how Nissan's innovative technology could improve performance.
Mick Wheeler, Sales Executive at Town and Country Nissan, which is at Marazanvose, near Truro, said: "We are absolutely thrilled to be able to support Melissa on the road to Rio, and I'm sure both she and her family will absolutely love the car."
"We know she's going all out to get gold in Rio, and knowing we are playing some part in helping her achieve her goals is a real source of pride for everyone at the dealership."
Fans can follow #UniteAndExcite at www.nissan.co.uk/uniteandexcite