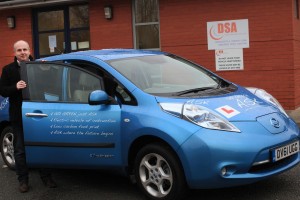 ASK Driving School's Paul Tomlin has taken delivery of a Nissan LEAF to become the first driving instructor to teach in a 100 per cent electric vehicle.
Based in Stoke-on-Trent, Tomlin has been a driving instructor for 14 years and wanted a more economically friendly car in which to teach his pupils how to drive.
After a successful test-drive of the LEAF from local dealer Holdcroft Nissan Hanley he immediately placed an order to become the UK's first EV driving instructor.
Tomlin is happy to avoid petrol stations and the time incurred filling up, citing a £2,800 cost saving per year over his previous car. Tomlin uses a local public 50-amp charger during lunch which allows him to do a few lessons in the morning and a couple more in the afternoon.
Tomlin expects to cover approximately 25,000 miles a year instructing learner drivers and will run the LEAF for 18 months before replacing again.
The dual-controlled LEAF has been a hit with pupils who have praised how easy it is to drive and how smooth and effortless the driving experience is.
A lot of interest
Tomlin's first pupil had previously failed her practical test twice before choosing to take further lessons in the LEAF. The pupil subsequently passed her driving test in the LEAF with zero minors, praising the LEAF's ability to keep her nerves calm.
Tomlin said: 'Since I took delivery of the Nissan LEAF there has been lots of interest from my fellow instructors and it's easy to see why. The pupils love the car and the immediate success they have had underlines what an easy car the LEAF is to drive. For me personally I'm happy to now avoid the petrol stations and I feel happier for the environment by driving a zero emissions vehicle.'
David Dillon, Holdcroft Nissan Hanley dealer principal said: 'We're happy to see the LEAF become the first electric driving instructor vehicle and thrilled for the pupils successfully passing in the car. With the pass success Paul has already enjoyed with a 100 per cent electric car, many young learners' future first driving experience could well be in a LEAF.'