THE all-conquering Nissan Qashqai has underlined its superiority with a hands-down triumph over premium brand competitors in the latest issue of What Car? magazine.
The leading titles put the model through its paces in an intensive head-to-head road test that pitched it against the Mercedes-Benz GLA, Audi Q3 and BMW X1.
Afterwards, the all-new Nissan was named 'Best Small SUV' with a top-notch five-star rating and the unequivocal verdict: "This is the best car here by far."
In January, What Car? named the all-new Qashqai its Car of the Year for 2014 – one of the automotive media's most prestigious accolades.
But the latest road test, which features in the magazine's June edition, was the first time its road testers had tested the car in head-to-head conditions.
And instead of comparing the model to rivals from mainstream marques, they threw it in at the deep end and put it up against the premium-badge offerings.
Unsurprisingly the Qashqai – a 1.6 dCi Acenta Premium – came out on top and the magazine's final verdict was a resounding one.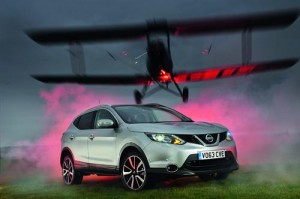 It said: "The latest Nissan Qashqai seems to go from strength-to-strength. It's already picked up our 2014 Car of the Year Award, beating its mainstream rivals in the process, but now it's given its premium-badged rivals a thrashing too.
"It doesn't just win because it's cheaper and better equipped. Yes, it's both of these things, but it's also genuinely the best car here – and by a big margin.
"In fact, the only reason not to buy the Qashqai is the fact that the lower-powered 1.5 dCi model is that bit cheaper and quieter."
As part of the feature, test drivers compared the cars in 10 key areas – performance, ride and handling, behind the wheel, infotainment systems, quality and reliability, equipment, safety and security, refinement, space and practicality and buying and owning.
The model scored a maximum five-star rating (no other model scored five stars in any category) in four areas – quality and reliability, equipment, safety and security and space and practicality.
It also scored four-star ratings to jointly win the performance, behind the wheel, infotainment systems, refinement and buying and owning categories.
Overall, the Qashqai was the clear and undisputed winner, with the Audi Q3 finishing a distant second, the BMW third and the Mercedes bringing up the rear.