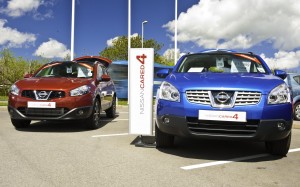 THE NISSAN Qashqai is the fastest selling used car in Britain this month, according to new figures.
A monthly league table published by data specialists Glass's showed pre-owned examples of the iconic model flew off dealership forecourts quicker than any other.
The figures revealed the original crossover sold in an average of just 25.3 days – almost two days quicker than its nearest competitor, the Hyundai i10.
Rupert Pontin, Chief Car Editor at Glass's, suggested that the Qashqai's success was due to its popularity as a family car.
He said: "These results not only reinforce the popularity and desirability of the Qashqai but emphasise the growing importance of crossover SUVs in the used as well as new markets."
The Nissan Almera was the sixth bestselling model, selling in an average of 28.1 days.