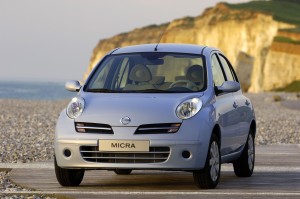 NISSAN is recalling thousands of Micras in the UK because of a potential steering wheel problem.
The recall affects 133,869 cars manufactured between December 2002 and May 2006 and is part of a worldwide recall of 841,000 Micras.
In a statement, the company said: 'Nissan is writing to owners of its Micra models built between December 2, 2002 and May 12, 2006 asking them to take their car to a Nissan dealer for a free check to ensure the steering wheel securing bolt is tightened sufficiently.
'In some cases, the steering wheel securing nut has gradually become loose.
'This would soon become apparent to the driver and there is no risk of a sudden failure, but if left unchecked this could eventually lead to the steering column being damaged. The check will take less than 15 minutes at a dealer.'
First launched in 1983, Micra is celebrating its 30th birthday this year. The car has become an icon for Nissan and throughout its four generations has remained dependable and affordable.
Naturally, the issue has featured on TV and radio news bulletins. Professor David Bailey, an expert on the automotive industry from Coventry Business School, told BBC Radio Five Live: 'It doesn't seem like there have been any reported accidents or injuries as a result of this problem, simply that the nuts that hold the steering wheel in place can become loose. Nissan will be checking to see whether they need to be tightened up or replaced.
Safety-first approach
'I think this is a safety-first approach. Nissan have identified a problem, there's a quick fix and that should be enough to satisfy consumers.'
Asked how common motor industry recalls were, Prof Bailey said: 'They're very common. Product recalls in the car industry have been around for as long as the car industry itself. There's almost one a month globally.
'The key thing from a manufacturer's point of view is to identify the problem, identify the fix and tell consumers that they can deal with it.'
Prof Bailey was then asked if he thought the reputation of Nissan's Sunderland plant would be affected.
He replied: 'No, I don't think so at all. This is a very frequent occurrence in the car industry. A modern car today could have anywhere between 20,000 and 30,000 different components in it. The car manufacturer will product-test that car almost to destruction but cars are lasting longer and longer.
'The cars mentioned today were built as far back as 2002. You can't simulate the whole lifetime of a car. These things will emerge as cars get older. What's interesting is that they're going right back to cars made in 2002, and they're replacing the component even if it's well out of warranty.'
He advised the affected Micra owners: 'Go straight to the dealer and get them to deal with it. That would be the quickest and safest thing to do. It's safety first from the manufacturer's point of view.'