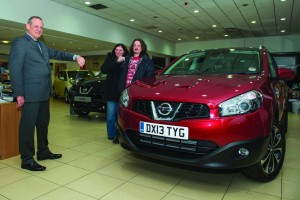 DOZENS of Shropshire car buyers put superstition to one side this morning by collecting cars bearing the new '13' registration from Telford dealership William A Lewis on the stroke of midnight.
Despite industry fears the unlucky-for-some number would put many motorists off buying a new car, the traditional 12am handover of new vehicles at the Nissan retailer's Stafford Park site was as popular as ever.
The event proved the region's motorists remain bewitched by the magic of a new registration and the chance to be among the first to hit the roads in a car bearing the new number.
Among the first to drive off the William A Lewis forecourt in a 13-plate car was local couple Gareth and Pamela Thomas, of Oakengates, Telford, who took delivery of a stunning new Nissan Qashqai+2.
Speaking as he waited for the clock to strike midnight so he could drive away in his new car, an excited Gareth said: 'We really decided to collect our car at midnight to avoid the rush of people who will be collecting theirs tomorrow but there's an element of excitement too.
'I can't deny it will be nice to be among the first on the road with the new registration.'
He added: 'The whole superstition thing around the number 13 didn't even occur to us but it doesn't bother us at all. We're just delighted with our new car.'
In our picture, John Cook, sales controller at William A Lewis Nissan in Telford, counts down to midnight as Gareth and Pamela Thomas eagerly wait to drive off in their new Qashqai+2
This story was prepared by the Nissan Dealer PR Service. Call the Nissan Dealer PR team on 0845 0550504 if you have a story you'd like your local papers and radio stations to know about!