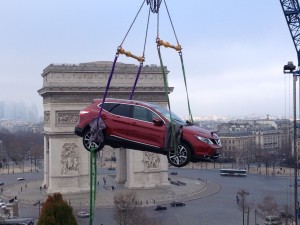 NISSAN celebrated the launch of the all-new Qashqai with a ground-breaking exhibition in Paris.
Rooftopping involves climbing to the top of city skyscrapers and capturing photographs of the scene below, and Nissan took inspiration from the ground-breaking art form with a new exhibition.
Held between 16-21 January, the exhibition united the biggest names in Rooftopping – including the founder of the movement, Tom Ryaboi – and was staged on the roof of the iconic Publicis Drugstore, overlooking the Champs-Elysees, in Paris.
To showcase the artists' work, guests were invited to climb from the sixth floor of the Publicis Drugstore to the rooftop, where they were greeted by the sight of the new Qashqai and the spectacular Paris skyline.
Guests were then encouraged to use iPads to join an interactive trail that explained where all the exhibition images were shot.
It proved extremely popular, with more than 2,500 applicants applying for the 1,000 available tickets.
Luis Miguel Rojo Y Pinto, marketing director of Nissan West Europe, said: 'We hoped that bringing together this exciting and interactive style of photography would highlight the key qualities of the New Nissan Qashqai, but we didn't expect it to have such a big impact.
'We are glad to have been among the first to showcase this exciting new photography movement.'