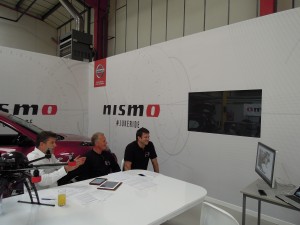 MOTORSPORT legend Johnny Herbert and David Parkinson, Nissan's social media chief, took part in a Google Hangout to explain the progress being made with #JukeRide, Nissan's ambitious social media-led project.
Advanced in-car technology to monitor drivers' physical attributes, such as heart rate and eye tracking, as well as comprehensive automotive data, has been under consideration for inclusion in the #JukeRide project, which aims to build a state-of-the-art Juke with its own Skycam helicopter.
The project is designed to help Nismo's (Nissan Motorsport) team of talented young athletes push their performances to new heights.
Motorsport enthusiasts from across Europe flew to the UK and joined ex Formula 1 driver Johnny Herbert and his team of engineers to brainstorm ideas for the #JukeRide car. Over the course of the weekend, participants were taken to the world-famous racetrack at Silverstone to experience what it's like to be a Nismo athlete for themselves.
Using this experience, they then worked with Johnny Herbert to develop innovative ideas for features that could be included.
Further brainstorms followed, and Nissan has been continuing to work with the online community to improve the car, finalise its features and give it a final name. The car will make its public debut at this year's Le Mans 24 Hours this weekend.
Johnny Herbert and David Parkinson, Nissan's head of social media & digital engagement, hosted the Google Hangout to update on the brainstorms that have taken place so far, and explain about the progress that's been made with the project. The main topics that were covered include the technology in the car, social media interaction and future applications for the #JukeRide ideas.
Readily available
#JukeRide is a social media led project, so David Parkinson also took the opportunity during the Hangout to update on the volume of social interactions so far.
Since launching in April, #JukeRide has been promoted in social venues including Twitter, Facebook, Google+, Vine and YouTube. Overall, there have been over 10 million social interactions, including almost a million YouTube views, 2.5 million Twitter impressions and over 3,000 individual ideas contributed by more than 1,000 fans.
Speaking after the Hangout, David Parkinson said: 'The #JukeRide project is an ambitious one, but we're really pleased with its progress so far and looking forward to revealing the final, crowd-sourced car. Collaborating with the community in person, and via social media channels, has provided so many great ideas that we wouldn't have thought of otherwise, and which could actually have applications in many other areas.'