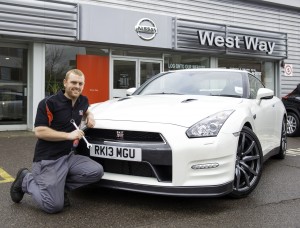 TODAY Nissan Insider talks to a man who is the envy of his colleagues across the country after becoming one of the youngest Nissan Performance Car Master Technicians in the UK.
The advanced accreditation – held by an elite band of the very best technicians across the Nissan network – qualifies 24-year-old Steve Kay to work on thrilling performance models including the stunning 370Z and the awesome 550PS GT-R supercar.
It was awarded after Steve, of West Way Nissan in Aldershot – already a fully-qualified Nissan Master Technician – completed a series of intensive courses at the carmaker's state-of-the-art training centre.
And his in-demand skillset has already earned him the opportunity to work with a professional motorsport team at high-profile race meetings in Dubai and the Netherlands.
A proud Steve, who began his career as a West Way Nissan apprentice five-and-a-half years ago, said: 'I love my job but getting to work on performance cars like the GT-R is particularly special.
'As a Nissan Master Technician I was already qualified to work on all the other models in the range and also to work on the Nissan LEAF – a 100% electric car – which required some very specialised training.
'But becoming one of the limited number of people who are certified to work on the performance cars is fantastic.
The highest standards
'Each model is so valuable and much-loved by its owner that we always have to meet the highest standards. And the customers really like to know what's going on with their car every step of the way which means we have much more interaction with them.'
Steve's experience as a Performance Car Master Tech has twice seen called him up to help pro racing team Optimum Motorsport at high-profile 24-hour races.
He said: 'Working for the racing team has been an amazing experience and it's something I'd definitely like to do much more of.'
West Way Nissan in Windsor Way, Aldershot, is a specialist Nissan Performance Car Centre.