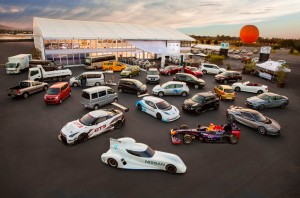 NISSAN in Europe announced sales of 53,718 units in October. For the calendar year-to-date, Nissan's sales in Europe hit 534,427 units.
A strong performance was recorded in the UK, up 32 per cent on October 2012 with 10,402 units sold. Sales decreased in Russia year-on-year but increased in Germany, France and Spain.
Across the Nissan model range, sales were directly in line with 2013 figures contributing to the steady 3.8 per cent market share across the region. Accumulative market share from January to October 2013 stands at 3.5 per cent.
Nissan Europe Vice President Sales Operations, Raoul Picello, said: 'Current economic conditions are not favourable for us, or indeed any of our competitors; but we are confident that we have a strong line-up which meets the needs of European customers.
'Despite the headwinds we are currently facing, we have successfully maintained our overall market share, and in some key countries, we continue to make significant gains over a very strong 2012.
'The popularity of our crossover family remains strong and with the order books now open for our new-generation Qashqai, recently revealed to global media, we envisage that the strength of this segment will continue.'