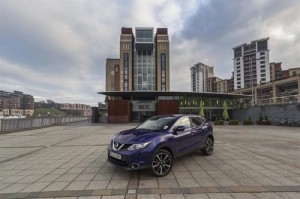 THE striking design behind the new generation Nissan Qashqai will be the subject of a unique event in one of Europe's leading contemporary art galleries.
The powerful curves, clean lines and intricate detail of the all new Crossover icon will be at the centre of a four-day Nissan Innovation and Excitement Event at Gateshead's BALTIC Centre for Contemporary Art, starting this Saturday, January 18.
Featuring rare concept images, a Qashqai showreel cinema and the new Qashqai itself, the event will preview a ceremony at the plant on January 22 to mark the vehicle's launch.
Visitors on Saturday will also be able to speak informally with Nissan's recruitment team about existing vacancies at the company, with experienced maintenance professionals for both the vehicle and battery plants the focus of current recruitment activities.
The event will also host staff from the Benfield Nissan dealership, who will create Newcastle and Gateshead's first city centre car showroom against the iconic backdrop of the bridges of the River Tyne.
Finally, the world-famous Gateshead Millennium Bridge will be illuminated in the Nissan brand's signature red throughout the event, providing a signpost as visitors approach BALTIC.
Nissan's Vice President for Manufacturing in the UK, Kevin Fitzpatrick, said: 'Nissan has created the next generation Crossover by redesigning Qashqai from the ground-up. We think it's fitting to celebrate that design in one of Europe's leading modern art galleries.
'The event will showcase the role of our design and technical centres in developing this innovative new model, as we move into full production at our Sunderland plant.
'At the same time we would like to invite anyone interested in working for Nissan to meet with members of our team, and give customers the chance to buy their next Nissan.'
On display around the vehicles at BALTIC will be a range of concept images which have led to the new Qashqai's bold design, highlighting the development of the vehicle at Nissan's Design Centre in London and Technical Centre in Cranfield, Bedfordshire.
Production of the new vehicle at Nissan Sunderland Plant was announced in 2011 following the soaraway success of the first generation Qashqai, which is the highest volume car made in Britain and has helped Nissan to become to biggest UK carmaker of all time, with plant production recently passing one million vehicles in two years.