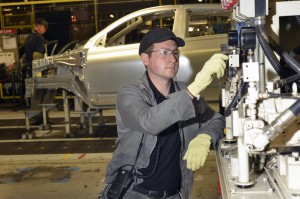 NISSAN is hosting a recruitment day for experienced maintenance staff this Saturday (November 30) as it gears up for the new Nissan Qashqai to go into production.
Nissan's new crossover, unveiled to the world earlier this month, will reinvent the market leading pioneer that has sold over two million units globally. The new Qashqai is designed to make premium technology more accessible than ever.
Nissan is looking for an initial 30 experienced time-served maintenance professionals to support the introduction of the new generation Qashqai and the volume increase which has followed the launch of the new Nissan Note.
The roles come with a competitive salary and generous benefits package, with previous recruitment events attracting hundreds of candidates interested in a career at the UK's largest car manufacturer.
Anyone interested in the roles available will have a chance to speak to members of the team in informal surroundings and get a feel for the many career opportunities available to Nissan's workforce.
Adrian Smart, Nissan's Sunderland plant Human Resources Director said: "Nissan Sunderland plant is preparing for the company's biggest car launch in many years and we are keen to hear from experienced maintenance technicians to support the introduction of this new Qashqai.
Crucial role
'The maintenance department plays a crucial role in supporting 24-hour production at the plant and this year has already supported the successful launches of LEAF and the new Note, which have been very well received by customers.
'We are committed to developing our own staff through our apprenticeship programme and these additional experienced staff will also play an important role in supporting the next generation of Nissan staff.'
The event is taking place in Nissan's world-class training facility in the Gateshead College Skills Academy for Sustainable Manufacturing and Innovation between 9am and 12 noon and is aimed specifically at experienced candidates interested in a professional role within the Maintenance Department.
Further information on these positions and all other vacancies at Nissan Sunderland Plant can be found here.