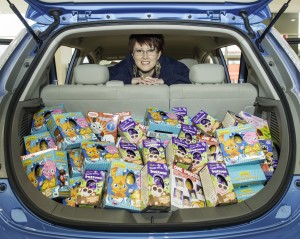 YOUNGSTERS at Acorns Children's Hospice are set for an egg-cellent weekend after a Birmingham car retailer delivered a carload of Easter eggs.
Staff at Nissan Birmingham Central filled the boot of a 100 per cent electric LEAF with an assortment of 100 chocolate treats to be shared out among children in the hospice and their families.
Beverley Hamblett, Sales Manager at the Digbeth High Street dealership, said: 'We only opened in November and we were all really keen to do something positive to support the local community.
'We could think of no better cause to support than Acorns as everyone in the Midlands knows about the unbelievable work it does and as it was Easter, we though they all deserved a treat.
'Everyone loves a bit of chocolate so I'm sure the eggs will go down well.'
Rachel Cranny, Corporate Fundraising Officer for Acorn Children's Hospice, was delighted to receive the eggs on behalf of the children and their families.
She said: 'It's always nice to be able to give the children an unexpected treat and so we really appreciate this kind donation.'
Rachel went on to explain why support from businesses like Nissan Birmingham Central was so crucial to the hospice's work.
She added: 'We provide care and support for life limited and life threatened children and their families from across the West Midlands.
'Our services cost over £8 million a year and we rely on the community for the majority of the support needed.'