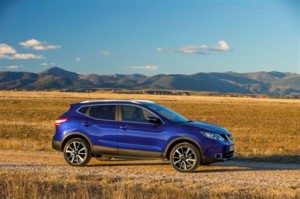 WHAT an incredible start the all-new Qashqai has made.
After a hectic but thrilling couple of weeks the dust has started to settle following the model's launch and we can start to see the amazing things we've achieved.
You'll have read the success stories on Nissan Insider – both Jon Pollock, Nissan GB Sales Director, and Niall MacLaren, Managing Director of West Way, hailed the launch as the most successful they've ever seen and JFE Nissan in Exeter reported customers queuing for test drives.
I've heard many similar reports from around the network and I'm sure you will doubtless have positive stories of your own to share. I look forward to hearing them when we next meet.
I'd also like to take this opportunity to thank you and your extended teams personally for the tremendous effort you have put in so far. I've been thrilled to hear so many tales of outstanding teamwork and of the pride staff in all areas have for the new model.
We set some very ambitious targets for first quarter sales of new Qashqai and it's very pleasing to see that we are well on target with almost 5,000 orders taken in the last two weeks – a four-fold increase on the outgoing model.
That said there remains a long way to go and we must all do everything we can to keep the momentum going.
And with that in mind, it's a real boost knowing that the mix of sales so far has been so rich and diverse.
Retail sales have been really strong, with dealers reporting a high volume of walk-in business and, of course, as we anticipated, loyalty business has also been impressive. We've also had a terrific reaction from fleet customers.
But what has taken us all aback is the level of conquest business new Qashqai is clocking up already. Usually we wouldn't expect to see much in the way of conquest business until much further into launch, but already we're enticing customers away from our competitors. And clearly our 'premium' message is getting across as we're seeing very healthy levels of customer migration from brands including Jaguar, Land Rover, Mercedes and BMW.
A flying start
So far, Qashqai Tekna has been a particularly big seller but dealers now need to be strategic in the models they sell.
A healthy order bank is one thing but sales managers should be closely monitoring stock levels and concentrate their teams' efforts on selling what is available if sales are to count towards this quarter's targets.
In summary then, we have made a flying start but I would urge you to maintain your efforts.
New Qashqai represents a fantastic profit and market share opportunity for both our businesses and I have every confidence that we can build on this great start and make it Nissan's most successful model yet.