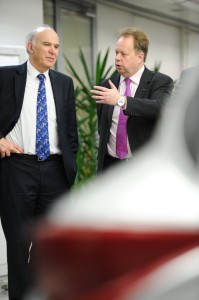 BUSINESS Secretary Vince Cable has helped Nissan launch an innovative apprenticeship scheme which, in partnership with West Thames College, will recruit and train the people who will literally shape the future of car design.
On a visit to Nissan's European design centre in Paddington, London, Dr Cable joined Andy Palmer, Nissan Executive Vice President, in launching the company's Clay Modelling Apprenticeship Programme – an initiative scheme designed to address a national shortage in skilled sculptors who give form to the vision of car designers.
In collaboration with West Thames College, the National Apprenticeship Service, Sector Skills Council for Science, Engineering and Manufacturing Technologies (SEMTA), the Skills Funding Agency, Creative Skills and Edexcel, the scheme is designed to create a pool of talented craftspeople helping to cement the UK's position at the centre of global vehicle design.
And there could be no more fitting venue than Nissan Design Europe – a hotbed of globally-sourced creative talent – where designers, working in collaboration with clay modelling specialists, have conceived two sector-defining models which are now among the most popular cars on the road: the British-built Nissan Qashqai and Nissan Juke.
While in Paddington, Dr Cable learned first-hand how a national shortage of skilled clay modellers has threatened to undermine the continuing success of Britain's thriving car design sector. But he also heard how the innovative Clay Modelling Apprenticeship intends to tackle the issue head on.
Dr Cable also met the first three apprentices, Joanna Bond, Robert Bennett and Sanny Kumar, who were selected from more than 900 applicants after undergoing a rigorous boot-camp style recruitment process and are now training in the engineering workshops at West Thames College, preparing for what promises to be a rewarding career at the cutting edge of new car development.
Andy Palmer, Executive Vice President of Nissan, said: 'Clay modelling is an integral part of the design process and vital in helping the design team visualise ideas. It's one thing seeing a design on paper or on a computer screen but the ability to view a model in clay gives designers a real feel for scale and proportion and allows them to fine-tune their visions and realise the stunning cars we see in the metal.
'In recent years though, the industry has seen a shortage of clay modellers because it's a skill and career opportunity many young people simply haven't been made aware of and there have been very limited training opportunities.
'This shortage has forced us, and other manufacturers with design operations in the UK, to rely on freelance modellers. This exciting new apprenticeship will lead the way in changing this situation, bringing the skill of clay modelling in-house, developing future generations of talent and further cementing the UK's position at the centre of global car design.'
Marjorie Semple, Principal of West Thames College, said: 'We are really excited to be working in partnership with Nissan on this amazing project. This fills a gap in the industry and opens up fantastic opportunities for young people who want to pursue a career in this sector.'
Apprentice Joanna Bond said: 'Clay modelling is a very specialist role and not a job you can just walk into. This apprenticeship is giving me the opportunity to get my qualifications and go straight into work. It's giving me all the skills I need to fulfil the role, plus lots more.'
Dr Cable said: 'Our ambition is that the UK should have a world-class skills base so businesses can compete in a global market. We have almost doubled the number of apprenticeship starts since 2010 to over one million. We have seen strong growth in sectors that are vital to rebalancing our economy, like engineering.
'Now we're putting employers, like Nissan, in the driving seat through the Employer Ownership Pilot. Companies can address their business needs by designing their own apprenticeships, like this clay modelling scheme which will keep us at the forefront of car design globally.'