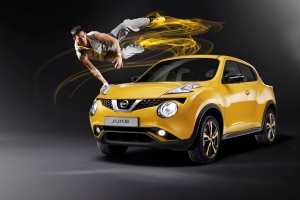 WHEN it arrived a little more than three years ago, the Nissan Juke used innovation to create a whole new market segment.
Just as the Nissan Qashqai pioneered the original crossover market, the Juke used dramatic design and advanced technology to break new ground in a more compact crossover package.
The Juke's combination of highly individual styling, strong driving dynamics and sophisticated interior equipment has allowed it storm from zero to 420,000 sales in less than 40 months, easily eclipsing its rivals.
Now, following Nissan's established practice of constant development, comes the next chapter in the Juke story.
Establishing itself as the original stand-out model in the growing small crossover market with premium style and refinement, the new Juke is ready to once again stamp its authority on the segment it created.
Already recognised as the design trend-setter, the new Juke benefits from a series of design enhancements, new engines, new equipment and a wide-ranging personalisation programme.
The changes and range additions will accelerate the growth of Nissan's second most popular model in Europe, helping it to emulate the remarkable achievements of its big brother Qashqai.
Juke is the best seller in the premium B-segment, outperforming all direct competitors including those from the top German brands. And it's not just the entry-level models which have helped Juke to the top: the best selling engine to date has been the 1.6-litre petrol unit while the top Tekna grade accounts for more than one third of all sales.
Special versions
Buyers have also been attracted by a strong range of special versions – notably the Shiro and the advanced n-tec models – and the Kuro and Ministry of Sound limited editions, while the sports-oriented Nismo has added driving thrills as well as breadth to the range.
On its way to a total of 420,000 sales, Juke has achieved 135,000 sales in 2013.
Guillaume Cartier, Senior Vice President, Sales and Marketing for Nissan in Europe, said: 'We stunned the industry with Qashqai, the original crossover, and we've done it again with Juke. If anything, Juke is even more daring and different than Qashqai and appeals to a younger, more out-going audience.
'The changes we have made to new Juke will extend that appeal even further to cement Nissan's position as the leading brand in the crossover market.'
New Juke will go on sale across Europe in the summer, 2014.