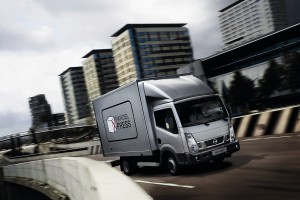 NISSAN'S NT400 Cabstar light/medium duty truck has gone on sale across Europe.
Built in Spain, the NT400 Cabstar chassis cab benefits from a number of enhancements designed to make it even more attractive to operators and drivers alike.
Among the changes are new looks, an improved payload, new high-output engine, longer service intervals for lower operating costs and new equipment providing extra comfort and greater safety.
All engine options are fully compliant with Euro 5b+ emission regulations while the new 145hp (107kW) high-output engine option is 45kg lighter than the unit it replaces, benefiting both economy and improving the vehicle payload.
Versatility is the key to the new range. It is available ex-factory with a choice of tipper, box and dropside bodies or as a chassis cab ready for conversion by specialists capable of installing an even wider variety of bodies on the vehicle.
To make the job of the specialist body builders as easy as possible, Nissan has equipped the NT400 Cabstar with a comprehensive array of connectors, electrical pre-equipment and warning lamps to enable a virtual 'plug and go' operation.
Connectors are fixed to the frame to facilitate the attachments of a new body to the chassis while new wiring harnesses are in place, linking the frame with the vehicle electrical system. The instrument panel has additional warning lamps within the dials and there are supplementary switches strategically placed ahead of the driver.
Highly regarded
The range remains as wide as ever. Available in single and double cab forms, there are three different wheelbase lengths available, five GVWs from 2.8t to 4.5t, and three power output options from the common rail 2.5-litre turbo diesel engine.
Sebastien Viet, chief marketing manager Nissan, LCV BU, said: 'The changes to NT400 Cabstar turn an already highly regarded truck into an even more compelling offer.
'NT400 Cabstar is ready to contribute to Nissan's growing LCV presence in Europe and keep the company on track to be LCV world leader by 2016.'