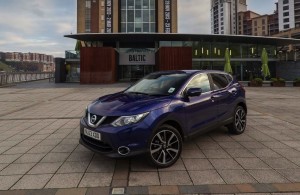 QASHQAI will maintain its gravity-defying sales momentum despite increasing competition from other carmakers, believes Jim Wright, managing director of Nissan UK.
Since launch in 2007 when it was the first crossover to take to the road, Qashqai has continued to grow sales even though there are now around 14 rivals vying for a piece of the action.
In an interview with headlineauto, Wright said: 'I am confident we can maintain the momentum because the new model is a big step forward in terms of design, refinement and technology. It has already received a good reception from the media and dealers. We are already getting record levels of web traffic.
'We are also able to offer a sub 100g/km CO2 model for the first time which means no road tax and another strength we can call on is very high level of loyalty among Qashqai customers. We have around a 60-70 per cent retention rate of which we are very proud.'
Qashqai accounts for just under half of Nissan's annual sales of around 130,000 vehicles a year – the company's fiscal year runs from April to March – and Wright expects the new model to play a large part in pushing this towards his target of 150,000 a year and a six per cent market share by 2016.
He also expects total industry sales to remain the same in 2014 as last year at 2.6m passenger cars and commercial vehicles. 'That said, we were surprised by the final total last year and maybe we'll get another surprise this year.'
With the UK market riding high, Wright does have concerns over price discounting as carmakers load the market here to make up for falling sales elsewhere in Europe. 'There is pressure on prices which makes this as good a time to buy a new car as any for consumers but it doesn't help us from a profitability standpoint.'
Nissan's makes the Qashqai at its UK plant in Sunderland and unlike some other carmakers and the Society of Motor Manufacturers and Traders, the company is staying neutral on the issue of the UK remaining in the EU.
Chief performance officer Trevor Mann, told headlineauto: 'Any business likes stability and is wary of changes but we are not going to speculate or scaremonger about what may happen if the UK pulls out of the EU. We will rise to any challenge.
'We've had this sort of issue in the past, particularly the strength of the pound against the euro a few years ago. We didn't cry about it then. We just got on with the job.'