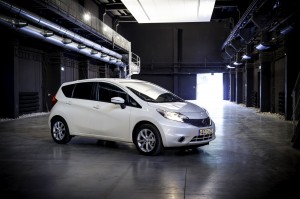 NISSAN'S all-new Note is set to offer the complete business case in the B-sector thanks to greatly reduced running costs and a suite of first-in-class safety features.
Already future residual values are predicted to rise by as much as £1,125 over a typical three-year, 30,000-mile contract, according to valuation expert CAP. That represents a seven per cent uplift over the outgoing model.
Servicing, maintenance and repair (SMR) costs on the new model have also reduced by 13 per cent. Combine those SMR improvements with stronger residuals and average Note monthly contract hire rates will reduce by around £1,188 on a three-year contract, the equivalent to nearly £33 per month.
The new Note also offers some exciting new features only previously seen on larger cars such as Nissan's Safety Shield technologies which provide three innovative features that will help fleets address their Duty of Care commitments: blind spot warning, lane departure warning and moving object detection. Other technology includes Around View Monitor, giving a bird's eye view when parking.
Nissan offers petrol and diesel engines in the new Note and both the 98PS 1.2-litre DIG-S petrol and 90PS 1.5-litre dCi diesel engines are equipped with the latest stop/start technology which helps get under the magic 100g/km CO2 level.
Positive reaction
'Note provides a brand new and exciting proposition to fleets within the mainstream B-sector which is the basis for many company car choice lists,' explained Beeston.
'The used guides have reacted very positively to the car which helps drive down leasing costs making the Note competitive with mainstream rivals.'
Nissan hopes to sell 20,000 new Notes in total in its first full year, 30 per cent of which will be into the fleet sector.