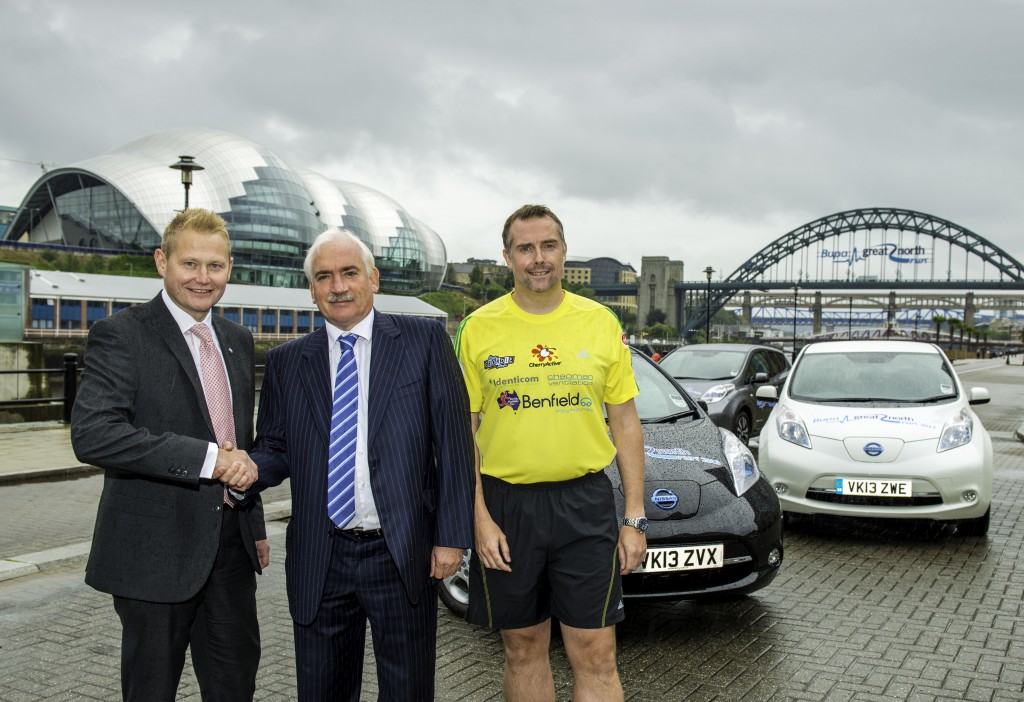 THE Nissan LEAF – the world's best selling 100 per cent electric car – is set to lead the field again, this time at the front of Sunday's iconic Bupa Great North Run.
For the second year running, a trio of the Sunderland-built models will play high-profile roles at the heart of the world-famous half marathon, helping to make the event one of the greenest on the sporting calendar as well as the most popular.
The three vehicles will lead the male, female and wheelchair elite athletes along the 13.1-mile route from Newcastle to South Shields before the main field of 56,000 runners sets off.
Again, all three vehicles have been provided by Benfield, the North East's largest motor group, which operates Nissan dealerships in Newcastle, Gateshead and Carlisle.
Martin Watson, General Manager at Benfield Nissan in Newcastle, said: 'As a family-owned North East business it's a great honour that Benfield is able to play such a pivotal role in a high-profile event that has come to symbolise the spirit and passion of the region.
'Dozens of members of the Benfield team will either be taking part in the run or cheering from the sidelines on Sunday and so it's a real thrill for the company to be at the heart of the action.
An important role
'We're also delighted that the organisers have again put their faith in the impressive Nissan LEAF to play such an important role. It's built at the Nissan plant in Sunderland and its involvement will not only ensure the runners are breathing clean air en route, but will also showcase the model's immense practicality and reliability.'
Eric Wilkins, Chief Executive of Nova International, the organisers of the Bupa Great North Run, said: 'We are delighted that Benfield and Nissan are once again supporting the Bupa Great North Run both with their vehicles and their team of runners in what is a great weekend for the North-East of England.'