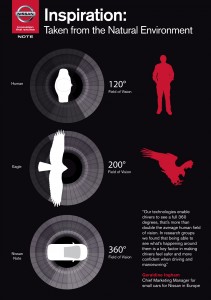 THE AVERAGE human has a field of vision of around 120 degrees, but drivers of the new Nissan Note will be able to see a full 360 degrees thanks to Nissan's advanced engineering and sophisticated technologies.
The new model, unveiled at last month's Geneva Motor Show, is the first Nissan to feature its advanced Safety Shield – a package of technologies that delivers a new level of driver assistance in the small car segment – along with the advanced Around View Monitor.
With the all-new Nissan Note, drivers can find out what it would be like to have eyes in the back of their head. Nissan's revolutionary Safety Shield, combined with Around View Monitor, gives owners unrivalled vision to help minimise the risk of accidents and to make manoeuvres easier and safer.
Safety Shield incorporates Nissan's Blind Spot Warning system, Lane Departure Warning and Moving Object Detection through its innovative convex-lens camera located, unconventionally, at the rear of the car.
The camera provides drivers with over 180 degrees visibility from a point just below the rear windscreen – effectively giving them eyes in the back of their heads and allowing them to see objects out of their normal field of view.
The system also alerts drivers to potentialdangers, such as a child walking towards their reversing Note or other vehicles hidden in blind spots.
Making use of a further three cameras – one on the front grille and one on each door mirror – the Note also features Nissan's acclaimed helicopter view parking aid, Around View Monitor, giving drivers a birds-eye view of their car.
Setting new standards
The 5.8-inch dashboard mounted screen displays a full, virtual 360-degree view, making manoeuvres significantly easier and safer. The Nissan Note is the first car in its segment to offer this sophisticated yet easy-to-use system, setting new standards for affordability.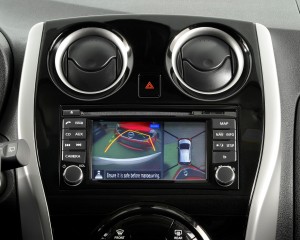 Geraldine Ingham, Chief Marketing Manager for small cars for Nissan in Europe, said: 'From talking to drivers through our research groups, we found that being able to see what's happening around them is a key factor in making them feel safer and more confident when driving and manoeuvring.
'With this in mind, we wanted to develop a technology that gave Nissan drivers a better view of the road. Safety Shield and Around View Monitor have been engineered to enhance drivers' vision and let them see more of their surroundings, helping to keep them safer and minimise accidental bumps and scrapes.'
Production of the new Nissan Note will start in the summer, with first deliveries scheduled for autumn 2013 depending on specific markets.