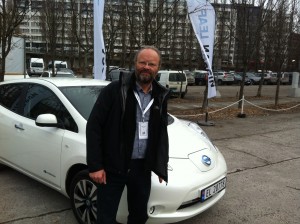 AS we've reported recently on Insider, Nissan has just launched a new version of its all-electric LEAF – and one of its celebrity admirers has declared himself VERY impressed with the vehicle.
Actor Robert Llewellyn, who starred as android Kryten in the sci-fi comedy show Red Dwarf, couldn't wait to get behind the wheel of the new car when Nissan invited journalists and VIPs to test-drive it last week.
The venue for the launch event was the Norwegian capital Oslo, a city hailed as the EV capital of the world. The LEAF in its first incarnation has done incredibly well in Norway since its launch two years ago and amazingly, has risen up the sales charts to become the sixth best-selling car OVERALL in the country.
Llewellyn, who has a huge fan base as a result of his involvement with the TV show Scrapheap Challenge as well as Red Dwarf, declared himself hugely impressed.
He's well known as an EV enthusiast and is always keen to point out that he doesn't exactly fit the profile of a typical electric car driver, living as he does in a sleepy Gloucestershire village.
We caught up with Robert just after he'd taken the all-new LEAF for a spin round the busy streets of Oslo – and it certainly seemed as though he'd enjoyed the drive.
He told us: 'I've driven 26,000 miles in my original version, so I'm very used to that. There are a huge number of little changes with this new model.
'Overall, it looks pretty much the same and the interior's pretty much the same as the outgoing model, but there are countless little, incremental improvements.'
The one thing that stood out for Robert was the heater. He explained: 'Normally I'm slightly too cold in the winter in my LEAF – I'm always turning the heater on and off because it really does make a difference to the range.
A huge improvement
'With the new car, I forgot it was on. It hardly affects the range at all. That's a huge improvement and really does make a difference.
'If someone is interested in getting an electric car, and didn't buy the first-generation Nissan LEAF but is getting one of these new ones, I definitely don't like them! They are getting a better car. It's definitely a big improvement.'
The all-new LEAF comes with an increased range of 124 miles and for the first time, owners will be able to lease batteries, reducing the headline cost of getting behind the wheel to below £16,000, including the £5,000 Government grant currently available.
Nissan says more than 100 improvements have been made to the emission-free LEAF, which is now being built at Nissan's record-breaking Sunderland plant as well as at factories in Japan and the US. It's estimated 55,000 LEAFs are on the road worldwide.