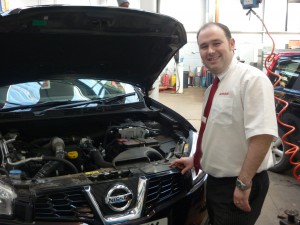 ALEX F NOBLE, the family-owned and run Nissan car dealership at Straiton outside Edinburgh, has announced the appointment of Stuart Pender as its new service manager.
Stuart brings over 14 years experience to the position having started as a parts apprentice with the Parks Motor Group in East Kilbride in 1999 when he was 17 years old, rising steadily through the ranks to become service manager in 2009, where he was in charge of seven franchises.
Leaving Parks in 2012 to join the Verve Group, Stuart was keen to accept the service manager position at Alex F Noble Nissan.
Speaking of his move, he said: 'I'm really pleased to have joined Alex F Noble.
'It's a well-respected name with over 80 years of experience and in that time, has built up a first-class reputation for dependability, value for money and customer service.
Leading position
'It's my job to maintain and ultimately build on our leading position as the Nissan dealer of choice in the east of Scotland.'
David Noble, dealer principal at Alex F Noble Nissan said: 'Our reputation is founded entirely on exceptional customer service, so it was very important for us to have a like minded service manager in the driving seat. Stuart brings considerable management experience to the role and we're delighted to have him with us.'