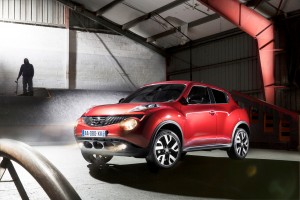 NISSAN unveiled a new Juke n-tec version at the Geneva Motor Show – and boss Jim Wright says it will soon become the best-selling model.
The Qashqai n-tec was a big-seller for dealers before it was replaced by the new Qashqai 360 – now Wright has high hopes for the Juke version.
'We expect this model to be the majority of sales,' Wright told NissanInsider.co.uk at the show. 'We are realigning the range into luxury and sport models to reflect the addition of Nismo so there's now a sports line and a premium line.
'I think we can expect to see the majority of sales in this new n-tec trim for the Juke.'
The n-tec model gets styling tweaks and will be the first to feature the latest version of Nissan Connect which has Google's Send-To-Car technology. This lets users plan a route at home and then send it to their car.
A 5.8-inch infotainment screen will show the driver how economically they are driving and will also display the view from the rear view camera. Tweaks to the exterior include new 18-inch black and silver alloy wheels, as well as gloss black B-pillars and door mirror caps.
N-tec trim will be available on all engine versions of the Juke, with prices expected to start at around £17,000.