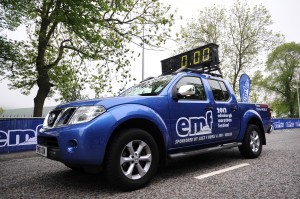 NISSAN will play a starring role in the forthcoming Edinburgh Marathon Festival after local dealer Alex F Noble was appointed the event's official transport partner for the fourth successive year.
The Straiton dealership will supply organisers with 11 vehicles – including three Navara pick-ups and two Micra superminis – for the massive event which will take place on Saturday 25th and Sunday 26th May.
Four of the vehicles will act as official clock cars, keeping the 30,000 plus runners and 100,000 spectators up-to-date with the race time.
Antonia Flockhart, Partnership Manager of organizers, GSi Events Ltd, said: "We're expecting a record number of runners at this year's event plus a huge number of spectators from all over the world lining the streets to cheer them on.
"As a result, our transport requirement this time round is even more demanding than last and we are so grateful to the Alex F Noble Nissan team for providing us with the perfect transport solution. The Nissan vehicle range of cars, pick-ups and vans Noble supplies us with includes everything an event the size and scale of the Edinburgh Marathon Festival requires and is absolutely ideal for our purposes."
David Noble, Dealer Principal at Alex F Noble Nissan, said: "Being involved in what is now, such a high profile event as the Edinburgh Marathon Festival is very important to the dealership as part of our annual sponsorship programme. As the event becomes bigger each year, so too does the demand from the organisers for an extended array of multi-use vehicles, so I'm naturally pleased that our Nissan range ticks all the boxes."