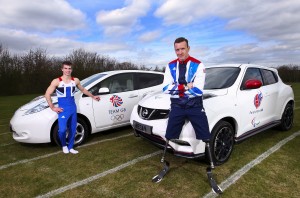 NISSAN has today thrown its weight behind the Team GB and ParalympicsGB athletes who will compete for Great Britain at the Sochi 2014 Olympic and Paralympic Winter Games, and the Rio 2016 Olympic and Paralympic Games.
Reflecting its status as the UK's most prolific motor manufacturer, the company will support British athletes on their 'Road to Sochi and Rio' as the Official Automotive Partner of the two teams. It will also apply its performance credentials and expertise in innovative technology to help enhance the squads' training regimes and overall performance.
Nissan will also provide vehicles to the BOA and BPA, enabling the organisations to deliver world-class logistical support to Britain's Olympic and Paralympic athletes.
Team GB delivered its greatest performance in over a century at the London 2012 Olympic Games, winning 65 medals, including 29 gold, to finish third in the medals table. ParalympicsGB maintained their status as a leading nation in Paralympic sport by finishing third in the medals table, claiming 120 medals, including 34 gold.
In February last year, Nissan was unveiled as a 'Tier 1' sponsor and the automotive partner of the Rio 2016 Games. It will supply over 4,500 vehicles to support the Olympic and Paralympic events.
In October last year, London 2012 triple gold medallist and 4x100m world record holder, Usain Bolt, extended his role as Nissan GT-R ambassador to become Nissan's honorary 'Director of Excitement'.
Lord Sebastian Coe, Chairman of the British Olympic Association, introduced Nissan as the Official Automotive Partner of Team GB for 2013-2016 at a media briefing in Central London.
He said: "I am delighted that Nissan, a company that is recognised globally for excellence and performance, is partnering with Team GB on the 'Road to Sochi and Rio'. The BOA played an important role in enabling me to pursue my Olympic dreams and compete for Team GB, and now, thanks to partners like Nissan, today's athletes can be afforded the same support.
"Nissan has invested heavily in British industry and now it is backing Britain in the greatest sporting arena in the world."
Tim Hollingsworth, CEO of the British Paralympic Association, welcomed the partnership saying:
"I am delighted by this deal and would like to welcome Nissan into the Paralympic family in the UK. We are delighted that, following on from the inspiration of London, they have sought actively to support the BPA in this country alongside their becoming the first Paralympic partner of the Rio 2016 Games. Our partnership with Nissan will very much complement the family of partners we have already announced on our journey through to Rio, and we are delighted that they are the first
brand from outside the LOCOG partners to engage with us following the success of ParalympicsGB at London 2012. We firmly believe that successful sponsorships are based on shared values and a vision for what can be achieved, and look forward to working closely with Nissan over the next four years to implement this."
Paul Willcox, Senior Vice President, Sales and Marketing for Nissan in Europe, said: "There is a great synergy between the pioneering Olympic spirit and the way that Nissan constantly strives to challenge perceptions and identify innovations.
"Last year, British Olympic and Paralympic athletes did an amazing job at their home Games and were a source of enormous national pride and excitement. We are delighted to be associated with two such inspirational squads. Nissan will be more than just a badge on the team kit, it will be a true supporter of both teams and we look forward to working directly with Britain's sporting heroes to amplify their performance and provide the UK with even more reasons to get behind our sportsmen and women."
Nissan is a major player in the UK car manufacturing industry. It employs 6,100 people at its plant in Sunderland, 550 at its European Technical Centre in Cranfield, 250 at its UK HQ in Maple Cross and 50 at its European design centre in Paddington.
Last year, the Sunderland factory produced 510,000 vehicles, a record number for any plant in the UK. In 2012, one in three cars built in the UK was a Nissan.