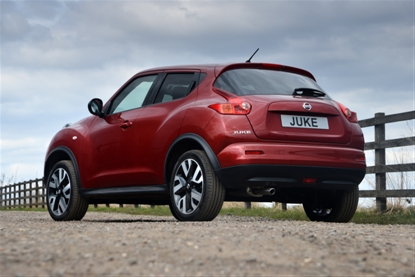 THIS week sees the launch of the new Juke n-tec marketing campaign. And proving that Nissan are pioneers in innovation and excitement, it is notable for a number of Nissan firsts.
Starting with the company's new TV campaign, Nissan launched its first 10-second teaser last night, during ITV's coverage of the Spurs-FC Basel Europa League match, which attracted more than 11 million viewers. The intriguing teaser directed viewers to search Nissan Juke where they were able to take an exclusive look at the full TV ad.
The teaser activity continues today (April 12), with spots across ITV4, Film4, Sky 1 and Sky Sports. This will be supported socially giving people the opportunity to click through to see the full ad and for the first 1,000 people to like the soundtrack, the opportunity to download it for free. To view both the teaser and the ad itself, just scroll down to the end of the text in this post.
The full TV ad will then play out from tomorrow across a range of channels and programmes for the next two weeks including a host of sporting events and some of the most popular US crime dramas.
The TV ad for the first time includes a twitter hashtag call to action at the end with the aim of engaging with viewers and encouraging them to interact with the brand.
On top of a building
To support the TV ad, Nissan have taken over the atrium inside Oxford Circus tube station for two weeks with the first ever 360-degree wrap at the station. Commuters will be immersed into a 3D city landscape with the feeling that they are walking on top of a building with the Juke n-tec gliding above their heads heading to a Google pin as its destination. On digital screens on platforms around London, commuters will have the opportunity to see the full TV ad.
To complete Nissan's selection of firsts the company has also created an interactive mobile experience utilising Google maps which allows people to engage with a mobile ad and see the Juke n-tec arrive at their current location. More information will follow.
The TV campaign will be supported in the dealerships with updated point-of-sale material; and in print with insertions in various magazines and newspapers.
The company also has an exclusive with Auto Express who sent a journalist to see the making of the TV ad in Los Angeles and this will feature in next week's edition.
Further to this, Nissan has a strong online presence with advertising on various websites including MSN, AOL and Metro.
Let's hope all this exciting marketing activity gets sales of Juke n-tec off to a great start!