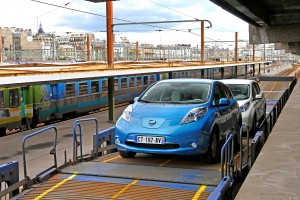 IF YOU thought Paris to the South of France in an electric vehicle on just one charge could not be done, think again.
Thanks to an innovative partnership between Nissan and French national rail company SNCF, Nissan LEAF drivers can take their car on vacation without worrying about battery range, motorway tolls or the stress of dealing with vacation traffic on a long journey.
The special EV partnership with SNCF's Auto-Train service means owners can drive their Nissan LEAF to the famous Bercy rail station in Paris where their car is fully charged at a Nissan-installed Quick Charger before being loaded on a train for the overnight journey south.
Pierre Boutin, Managing Director Nissan France, said: "The Auto-Train service is a perfect stress-free way to see France and the rest of Europe. Not only do you avoid motorway tolls and holiday traffic but can also enjoy the benefits of a comfortable and quick journey on the TGV.
"Our partnership with SNCF not only gives people the freedom to take their beloved Nissan LEAF on holiday, but has the potential to change the way we travel to our holiday destinations in the future. With a pan-European network of Quick Chargers offering free charging before any journey, the sustainable vacation possibilities are limitless."
LEAF owners using the SNCF Auto-Train are entitled to one completely free return journey and a 30 per cent discount on all other SNCF trips. Complimentary battery top-ups are also offered to service users. The charge terminal, provided by Nissan, is part of its network deployment of 40 Quick Chargers in France and 400 pan-European locations.
A return TGV journey between Paris and Nice for a family of four costs around €235* (including discount) with the car going free and taking around six hours each way.
To make the same return trip by road in a conventional diesel-powered family car would cost about €350 – €200 in fuel and €150 in tolls**- and would take around nine hours in each direction. Travelling by train also means LEAF drivers and their passengers have an extra €115 to spend while on their vacation.
Zero-emission exploration
Having made their own way down to the sun, either via a daytime TGV or an overnight sleeper or couchette, the owners will be reunited with their LEAF, which will be ready for a zero emission exploration of the French Riviera.
Recharging the LEAF once in the south is equally stress-free. There are already 10 Quick Chargers installed in the area, at Nissan dealers or in towns such as St Remy de Provence and Avignon. And drivers using the autoroute can recharge their EV at any AVIA fuel station on the A8.
The Auto-Train service links Paris with a number of European destinations including Nice, Geneva, Avignon, Biarritz, Marseille, Tarbes, Narbonne, St Raphael, Toulon and Toulouse. Other European Motorail service destinations include Alessandria and Livorno in Italy, Düsseldorf in Germany and Hertogenbosch in the Netherlands.